Former Vice President Dan Quayle meets with Donald Trump
Did the former number two man resurface to help make America Great again?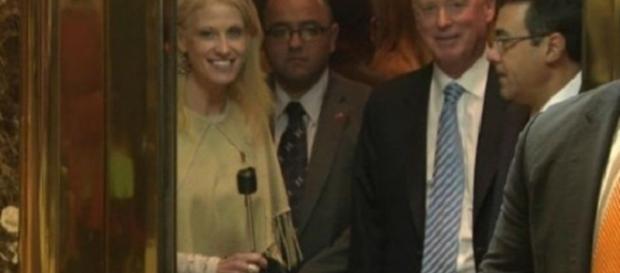 So, this just happened. A real blast from the past entered Trump Tower today almost unnoticed. Without public warning, former Vice President Dan Quayle trekked over to the high rise building to offer #Donald Trump his personal best wishes. Largely unnoticed by a row of press occupying the lobby of the Trump Tower, Quayle entered the building along with Trump campaign manager Kellyanne Conway. Oddly enough, Trump has been busy of late sifting out potential Cabinet picks. However, Quayle insisted to a group of waiting reporters that he was just in the area and decided to drop by. Following his meeting, the 69-year-old politician also added that "things were in good hands with Trump who is moving forward and will make America great again." He also confirmed having breakfast with Vice President-elect Mike Pence earlier this morning.
Back in May, Quayle announced his endorsement of Trump, expressing confidence in the real estate tycoon's ability to beat Hillary Clinton in their race for the White House. In a pre-election interview on the "Today Show," Quayle predicted that most die-hard Republicans will rally around their nominee. Quayle admitted that Clinton was more qualified to be president, at least on paper, but he felt Trump was more qualified in representing the "outsider" that people wanted.
Going back to Indiana
Born in Indianapolis, James Danforth "Dan" Quayle served as Indiana's Attorney General before becoming George H. W. Bush's vice president in 1989. Before then, he was a U.S. Representative and a U.S. Senator. Quayle sought his own presidential bid in 2000 but eventually withdrew and supported George W.
Bush instead. Since that time, Quayle has rarely been seen in the political spotlight.
Ridicule and scorn
Aside from holding such a high office, Quayle may be better known for a couple of embarrassing moments. During a 1992 spelling bee, he changed a 12-year-old student's correct spelling of "potato" to "potatoe." Quayle was widely ridiculed for his mistake, which he blamed on cards provided by the school. That same year, Quayle gave a speech about the Los Angeles riots. Quayle faulted the decay of moral values. But when he cited the hit television show "Murphy Brown," whose main character was a single mother, as setting a poor example for proper family structure, people hit the roof. Women in particular were outraged, given that many of them did not dive into single parenthood by choice. Dan Quayle lives in Arizona with his wife Marilyn. #Buzz #Politics