Forget Plymouth Rock; indigenous peoples head to "The Rock" aka Alcatraz for ceremony
Every year since 1975 indigenous peoples have gone to Alcatraz Island, an infamous prison site and site of a major political action in 1969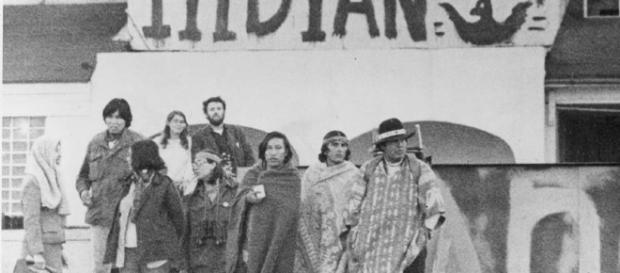 "Native News Online" reports that hundreds of Native people will go to Alcatraz Island tomorrow morning for the annual "Indigenous Peoples Thanksgiving Day Celebration." Alcatraz is significant to indigenous peoples of North America. It was the site of the first major political action by indigenous activists during what is known as the "Red Power Era" of the 1960s and '70s. In November of 1969 indigenous peoples reclaimed Alcatraz Island, led by the charismatic leader Richard Oakes (Mohawk). Oakes detailed the wish that the prison be converted into an American Indian cultural center. Their political action gained a great deal of popular support.
Media coverage then and now
Unlike the colonial legacy media white out on Dakota Access today, the Alcatraz action was nationally televised. Just as Shailene Woodley supports Standing Rock today, the Alcatraz action was supported by big name celebrities like Marlon Brando who would continue to advocate for indigenous rights throughout his life. The band Creedence Clearwater even provided a boat to get supporters to the island. Alcatraz would also give rise to several famous names in Indian Country such as the late John Trudell (Paiute) and Wilma Mankiller (Cherokee). Then, as now, the Alcatraz activists faced the threat of white vigilante violence. Oakes was nearly beaten to death, but was healed by Tuscarora Faith Keeper Wallace Mad Bear Anderson. Oakes was later murdered.
Mad Bear Anderson
Mad Bear is important to the Red Power movement in North Carolina. He visited the Tuscarora community of Prospect with Haudenosaunee (Iroquois) Chiefs. He helped build a traditional longhouse to reconnect with Native spirituality. The cultural renaissance merged with a newfound political consciousness as the American Indian Movement (A.I.M.) swept across the US on the "Trail of Broken Treaties." It was a march from California to Washington, D.C. to demand US policy reform on the rights of indigenous peoples. They demanded the honoring of treaties and the reopening of the treaty making process. The sparks of A.I.M. lit a fire in the East led by the Tuscaroras remaining in North Carolina.
North Carolina Red Power
They marched on the capital at Raleigh for both Indian and black civil rights. They formed the "East Carolina Indian Organization" to fight for the rights of the still unrecognized North Carolina Tuscarora. Some participated in the takeover of the Bureau of Indian Affairs building in Washington, D.C.
The takeover resulted from President Nixon's refusal to address the concerns of the Trail of Broken Treaties marchers. Two semi-truck loads of B.I.A. documents were taken from the building to Pap Locklear's home and later recovered by the Federal Bureau of Investigation at gun point. According to local tradition, some of the documents prove the continuing existence of the Tuscarora nation in North Carolina. Many North Carolina Tuscarora stand with Standing Rock today. Observers have commented that the nonviolent political action at Standing Rock is the largest of its kind since the Red Power Era.
Stand with Standing Rock
Like Alcatraz in 1969, Dakota Access has resulted in the awakening of the indigenous political consciousness throughout North America. Over 200 hundred distinct indigenous nations have offered their support in solidarity with the Oceti Sakowin (Sioux Nation). Thanks to tomorrow's sunrise ceremony at Alcatraz, the political history of the indigenous peoples of North America is being preserved. Thanks to the courageous water protectors at Dakota Access we may avoid the catastrophic consequences of #Climate Change. If one is going to give thanks, give thanks to those that defend the water, our very life source. If one is going to give thanks, thank those bravely confronting #Police Brutality. Be thankful for the Oceti Sakowin (Sioux Nation's) brave defense of the Environment for the mutual benefit of all humanity. One cannot do that by supporting the myth of the Thanksgiving holiday. #Government