First Son Trump not autistic; Barron Trump video enrages his mother, threatens lawsuit
Melania Trump threatened to sue YouTube video maker for suggesting her son has autism, sources say Barron does not have autism!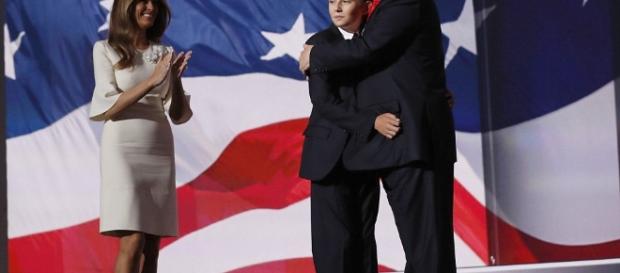 Incoming First Son Barron #trump is not autistic, say sources familiar with the situation. An upsetting video to the boy's mother was posted on YouTube that finally got her attention after Rosie O'Donnell tweeted about it convincing her that there might be something to it. #Melania Trump's lawyer, Charles J. Harder, issued a letter to the video maker ordering him to delete the video titled, "#Barron Trump Autistic? #StopTheBullying," and to post an apology or he would go to court.
Melania Trump not targeting Rosie O'Donnell
Melania was not going after O'Donnell, though she made things worse by giving the video merit for spreading rumors about her son having autism.
The video emphasized how the young first son Trump clapped without touching his hands together, "wobbled" when he walked, was restless in his seat, and was socially awkward while standing on stage. Clips were taken from the RNC convention in July when Barron was tired because it was late at night.
Melania Trump's attorney insists that Barron claps "normally" the "vast majority of the time." A source close to the situation tells TMZ that Barron is NOT autistic. The rumors haven't been addressed until now by anyone in the Trump team. Apparently, Rosie O'Donnell's tweet about Barron Trump stirred the pot enough to warrant someone to break their silence.
Video maker agrees to requested action
The video maker agreed to take down the video and has apologized. He said he never meant the video to be "bullying" Barron and went on to say that TMZ warned him about Melania's threat to sue.
The incoming first son is attracting plenty of press coverage since his father's election. Barron was photographed playing on the lawn of Mar-a-Lago in Florida with armed protection from the Secret Service and Coast Guard over Thanksgiving weekend.
Barron and his mother won't be moving to the White House until he finishes out the school year in Manhattan Columbia Grammar and Preparatory School. A Secret Service agent will drive him to school in an armed vehicle then other agents will scope out the building to ensure it's safe for him to enter. This is making other parents of the students anxious because they believe this poses a risk to their own children.
Trumps silent on autism rumors until now
It's unclear why Donald and Melania Trump have never responded to the flurry of rumors about Barron having autism until now. It's possible Rosie O'Donnell played a role in this given the fact she's an enemy of the president-elect's. He hasn't directly responded to her tweets, but has engaged in open Twitter warfare with the cast of "Hamilton" and chide election recounts.
Will there still be speculations that new First Son Trump is autistic? Anyone suggesting that in blogs or videos will risk the wrath of his mother if so.