During Elections 2016, Muslims celebrated their voting by hashtag #MyMuslimVote
#MyMuslimVote is a campaign on twitter for portraying Muslims and combat bigotry and Islamophobia.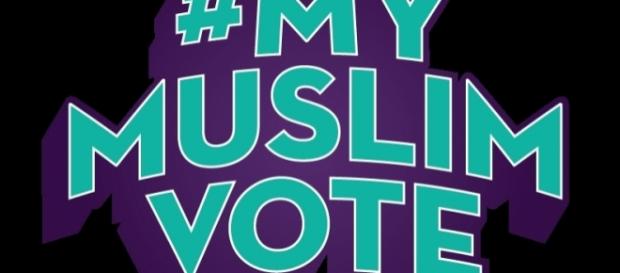 Sharing their pictures, their reasons to vote, and vouching for their identity as Americans, Muslims celebrated their participation and activism on twitter on election day using the hashtag MyMuslimVote. Muslims stood up for themselves and spotlighted their voter weight as a reaction to the devastating Islamophobia that occurred during Elections 2016 presidential campaigns.
Muslims Power (MPOWER) and The Muslim Students Association of the USA and Canada (MSA National) collaborated to found a grassroots organization holding the same hashtag name.
I Voted
Many of the pictures were of women smiling, wearing colorful veils (hijab), and having stickers on their veils that have the American flag and the statement, "I Voted." Moreover, other pictures depicted couples besides the banners of "Vote Here" or "Early Voting." Furthermore, several pictures were of  Muslim gatherings holding the #MyMuslimVote logo emphasizing on diversity to combat the bigotry. A remarkable picture of two veiled ladies and tweeted, "My daughter and I out to vote and wearing white - remembering the women who fought for our vote and the women who still can't MyMuslimVote."
 Other tweets are as follows: "I vote because my grandparents could not. #MyMuslimVote #ElectionDay #NYCVotes." "I am Muslim. I am American. I voted because this land was made for you and me.
#MyMuslimVote."
MyMuslimVote
In the footer of the MyMuslimVote organization, it assures its neutrality by inserting in the footer, "#MyMuslimVote does not endorse, support, or oppose any candidates for office." Moreover, MPower tweeted thanking the youth volunteers who called more than four thousand Muslim voters the night before the election.
Muslim children are terrified of elections 2016
During the GOP campaigns, the Republican presidential candidate Ben Carson said that he would advocate against having an American Muslim president of the United States.
Moreover, Trump attacked an Army Captain (Khan's) parents. However, Trump's campaign rhetoric of banning Muslims caused many Muslim children horror that they and their families may be forced to leave the country. On the other hand, in one of the tweets on the election day, a father posted a picture of his two little daughters standing beside the American flag and a sign for the voting location. In the tweet, he says that his little girl asked him if there was any Muslim president before, and when he replied that it did not happen, she said, "Then, I'll be the first [Muslim president]."
Click to read more
You will watch a video to read the news
or