Donald Trump wants Nigel Farage as Great Britain's ambassador to the United States
Trump and the leader of the British political party UKIP are good friends, but Downing Street and the UKIP front man are not.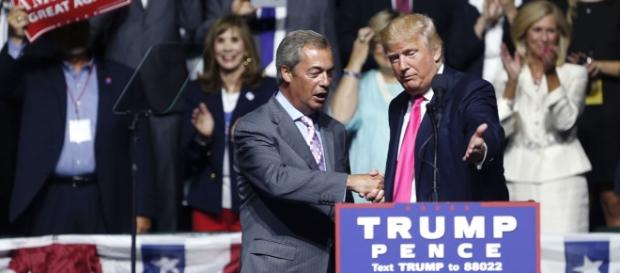 Donald #trump caused more controversy yesterday when he tweeted his desire to see Nigel Farage, the interim leader of the United Kingdom Independence Party(#ukip) "represent Great Britain as their ambassador to the United States". Trump and Farage have struck up a friendship over the last few months, with Farage even acting as a guest speaker at a Trump rally in Jackson during the US presidential campaign.
Downing Street responds to Trump's request
In reply to Trump's tweet about Farage representing the United Kingdom as an ambassador to the United States, Downing Street simply said that there was "no vacancy." The role that Trump is championing for Farage to take over is currently held by Sir Kim Darroch.
A spokesman for current British Prime Minister Theresa May said that Darroch was an "excellent ambassador" and that he would "traditionally" serve in his role for several more years to come.
Farage not happy with Downing Street's response
Farage became the first British politician to meet Trump after his victory in the US election earlier this month and has criticized fellow MPs for prioritizing their "dislike" for him over what, he believes, is in the best interest for the United Kingdom and its relationship with the United States, describing it as "career politics at its worst." Farage has a strong relationship with Trump, who is set to take his seat in the White House at the start of next year, and the UKIP leader is upset that the British Government has rejected the suggestion. Farage believes he could help with relations between the UK and the United States.
Trump and UK relations in trouble?
Trump and his controversial comments during his election trail have not sat well with many in the UK, with many senior politicians criticizing Trump, as well as a petition being signed by over half a million people to ban Trump from entering the United Kingdom. The petition was discussed in Parliament but not voted on, with many politicians stating that, even though they seen Trump as a negative influence, that it would make the billionaire come across as a "martyr" to his followers.
Trump's relations with the UK seemed to be getting better, with Theresa May revealing that discussions were taking place to invite Trump on a state visit to Britain. However, given Trumps continuing preference to work with Nigel Farage and the ill-will felt by many British politicians towards the MP, who largely blame him for Brexit, it remains unclear if Trump's administration will maintain the infamous special relationship with the UK, and if he and Prime Minister May truly will be Thatcher and Reagan reprised.
Many people would like to see @Nigel_Farage represent Great Britain as their Ambassador to the United States. He would do a great job!

— Donald J. Trump (@realDonaldTrump) November 22, 2016
#
Donald Trump