Donald Trump to use Trump University settlement as major tax write off, report explains
After settling in the Trump University case, it looks like Donald Trump won't be covering the costs himself after all.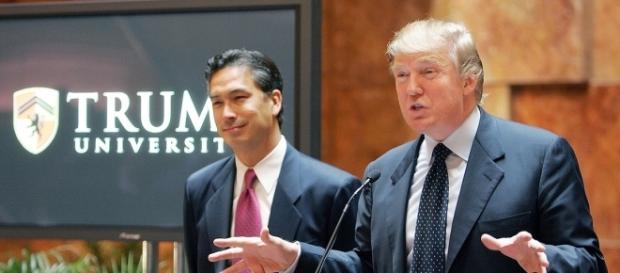 One of the biggest stories heading into #Election 2016 was how #Donald Trump would handle allegations of fraud and racketeering in regards to his Trump University case. Now that the new president-elect has been able to avoid a trial and reach a settlement, he is expected to use the tax code to his advantage.
Trump University break
Nearly 5,000 former students from Trump University claimed they were scammed out of as much as $35,000 each. The real estate school came under fire for the alleged scammed, where courses and teachers were not as advertised. The trial was set for November 28, which would cause legal trouble for Trump, who is currently in the middle of filling the remaining spots in his cabinet and administration.
Despite previously vowing to never settle in the case, Trump's legal team reached a settlement earlier this week in the amount of $25 million. As reported by CBS News on November 22, the billionaire real estate mogul has found a silver lining in the outcome.
Trump can deduct almost all of $25M settlement with former students of his defunct Trump University — why? https://t.co/blvcrbkZdO pic.twitter.com/tK5sGxUdXM

— CBS News (@CBSNews) November 22, 2016
Speaking to Robert Willens, a tax consultant from New York, CBS News explains how Trump will be able to use the $25 million settlement in a way that works for him when he files his taxes. According to Willens, Trump will be able to write the settlement off as "an expense in the ordinary course of doing business." While $1 million of the settlement is a result of a fine, which is unlikely to be tax-deductible, the remaining $24 million was "earmarked for Trump University students." However, if the money came from a "liability insurance policy," Trump would not be able to claim that amount on his taxes, but legal experts doubt that is the case.
The President-elect gets a $25 million tax write-off for the Trump University settlement https://t.co/7n3GEhVHqi pic.twitter.com/dtzPs5RmrT

— Forbes (@Forbes) November 22, 2016
The Trump University lawsuit was comprised of three civil actions against him, totaling up to as many as 7,000 former students. CBS News also notes that the students are likely to get back, at minimum, half of their money. Reporters attempted to reach the Trump team for a comment, but they have not yet responded as of press time.
Dodged a bullet
This isn't the only trial Donald Trump was able to avoid before Inauguration Day. Trump was originally set to go to court on charges of child rape stemming from an incident in 1993, where a woman known as "Jane Doe" claims the former host of "The Apprentice" and Jeffery Epstein, a convicted pedophile, raped her on numerous occasions during that summer. Trump denied any wrongdoing, and the lawsuit was dropped after "Jane Doe" reportedly received death threats.