Donald Trump's education secretary named
Betsy DeVos is a top Republican donor and an advocate for school choice.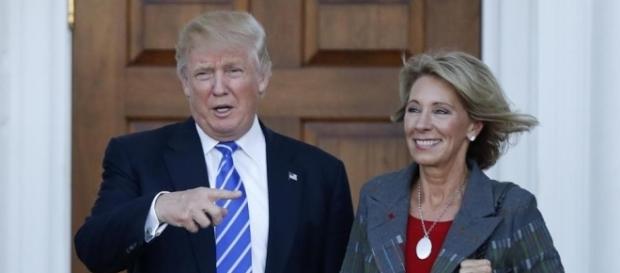 As president-elect #Donald Trump continues to fill out his cabinet for the presidency, his latest appointment is for the position of Secretary of #Education: #Betsy DeVos. The Michigan native will succeed John King Jr. in the position.
Getting to know Betsy DeVos
DeVos, a billionaire donor for the GOP, was offered and accepted the position of Secretary of Education on Tuesday. She is known to be a supporter of Common Core testing standards, which she disavowed on Wednesday; Trump has vowed to eliminate such standards in the country. She is also the chairperson of a group that supports charter school education. Conservatives reportedly worried about her appointment, mostly due to her previous alignment with the Common Core.
DeVos was born on January 8, 1958 in Holland, Michigan. She eventually rose to the position of Chairman of the Michigan Republican Party, which she served as from 1996 to 2000. She is a board member of the Foundation for Excellence in Education and has countless endowments and scholarships in her family's name. She is also the chairman of the Windquest Group, which invests in manufacturing, technology, and clean energy.
Most of her wealth comes from marrying Dick DeVos, an heir to the Amway fortune. With that money, she has become a top donor for the Republican Party.
Ben Carson was rumored to be a candidate for Secretary of Education, but denied a cabinet position.
Trump's cabinet filling out
With the appointment of Betsy DeVos as Secretary of Education, Donald Trump's cabinet is beginning to take shape.
Other cabinet positions decided upon have been the vice president (Mike Pence) and attorney general (Jeff Sessions).
Trump has also filled several positions just below the cabinet level, including naming former Republican National Committee chairman Reince Priebus as chief of staff and former campaign leader Steve Bannon as Counselor to the President. Just Wednesday, another major nomination was made when Nikki Haley was named the Ambassador to the United Nations. Haley is currently the governor of South Carolina and was rumored for numerous cabinet positions over the past few weeks.