Donald Trump offered Jerry Falwell Jr. major cabinet position, AP report details
Donald Trump pushed for Liberty University President Jerry Falwell Jr. to hold a top position in his administration.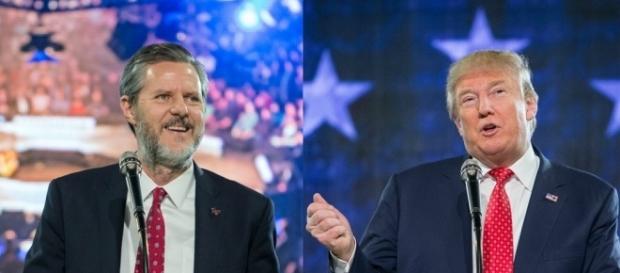 After it became clear that #Donald Trump was going to be the 45th President of the United States, questions were raised as to who he would surround himself with in the White House. While Trump has made some controversial additions to his cabinet, one name could have resulted in the most backlash of all.
Falwell addition
The first name that Donald Trump announced that instantly caught heat from the media and political critics was Steve Bannon. The executive chair of Breitbart News, Bannon is an accused racist, anti-Semite, and white Nationalist, though he continues to deny the allegations. Other names, like retired Gen. Michael Flynn and Sen.
Jeff Sessions, have also come under fire. The latest addition to the cabinet was Republican donor #Betsy DeVos as Education Secretary, though as the Associated Press (AP) reported on November 26, the job almost went to someone else.
AP: Jerry Falwell, Jr. says @realdonaldtrump offered him the job of education secretary https://t.co/72xSSWNlLr

— POLITICO (@politico) November 27, 2016
President of the Liberty University Christian college, #Jerry Falwell Jr. was tapped by Donald Trump to become the new Secretary of Education. While the job ended up going to DeVos, it was only because Falwell, the son of the controversial late Rev. Jerry Falwell, turned down the offer. Speaking to the AP, Falwell said there were several deciding factors in his decision.
JUST IN: Jerry Falwell Jr. says he turned down Trump's offer to be Education secretary https://t.co/oS41JQsNh7 pic.twitter.com/44VpUCnPHH

— The Hill (@thehill) November 27, 2016
The Liberty University president said that he was unable to accept the job as Education Secretary due to having at least two years remaining at his current position, compared to the four to six-year commitment that Trump had asked for.
Another factor was his family, where Jerry Falwell Jr. was committed to keeping his 16-year-old daughter in her current location. On the Betsy DeVos pick, Falwell said it was an "excellent choice." Falwell, and well as his father, have been strong voices for the religious right, though secular critics have often come down hard on the family's literal interpretation of Christianity, including denying evolution, and being against LGBT civil rights.
Next up
The next big announcement that many are waiting to hear about is who will become the next Secretary of State. According to several reports, the job is down to the final two, with Donald Trump deciding between former New York City Mayor Rudy Giuliani, and former Massachusetts Gov. Mitt Romney. It's unknown when the former host of "The Apprentice" will make his decision public, but it's expected to be made in the the coming weeks. Trump will continue to work with his transition team to fill out the remaining spots in his cabinet before Inauguration Day on January 20.