Donald Trump needs extra help from Obama after being overwhelmed by job duties, report
Donald Trump is reportedly having a difficult time adjusting to his job as president-elect, and is now pushing for more time with President Obama.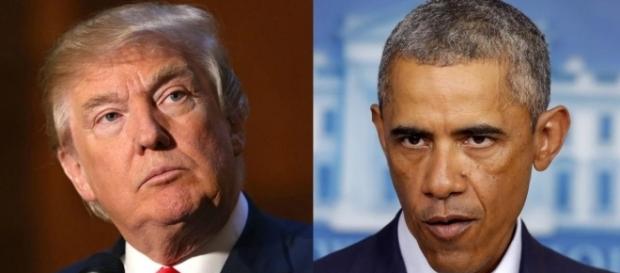 Over the course of the entire 2016 presidential campaign, #Donald Trump made a point to routinely take shots at President #Obama. Now that the election is over and he is the new #President-elect, Trump has been forced to seek further advice from the current president.
Trump on Obama
One talking point often used by Donald Trump while speaking to his supporters is that President Obama is the "founder of ISIS." The billionaire real estate mogul's history of smearing Obama is well-documented, as he was the first high-profiled voice to push the debunked conspiracy theory of the birther movement. Even during the campaign, Trump struggled to disavow his previous comments, and held an anti-Obama position until election night.
During an interview on the November 27 edition of NBC's "Meet the Press" former campaign manager Kellyanne Conway elaborated on the current relationship between the current president and the president-elect.
Kellyanne Conway: Trump and Obama Are Speaking Regularly https://t.co/83VAeq3lIm (VIDEO)

— Mediaite (@Mediaite) November 27, 2016
"Leaders listen, they learn, they take the counsel of many people," Conway told host Chuck Todd, before admitting, "He's (Trump) even been talking to President Obama." Conway continued, noting that the two spoke over the weekend. Shortly after Election Day, Donald Trump met with Obama at the White House and they spoke for over an hour and a half before addressing the press.
White House confirms Trump, #Obama have spoken since first meeting https://t.co/RvaxmNe72E #DonaldTrump

— The Washington Times (@WashTimes) November 22, 2016
As reported by The New York Times and Business Insider, advisors to the new president-elect have described him as "overwhelmed " by the job responsibilities at hand, and that Trump has requested additional time with Obama to help get him through the transition period.
Those advisors also confirmed that Trump never even thought he was going to election, describing him as "shocked" at the results.
For Trump, the gravity of his new job appears to be setting in https://t.co/OQkFn4vN3A pic.twitter.com/szjFXhvSru

— Business Insider (@businessinsider) November 12, 2016
Next up
While getting extra help from the man he openly despised for the last five years, Donald Trump will also focus on finalizing his cabinet while working with Vice President-elect Mike Pence and his transition team to fill in the gaps. So far, some of the cabinet selections have caused backlash, including Breitbart News' Steve Bannon, and retired Gen. Michael Flynn. The former host of "The Apprentice" is set to be sworn in as the new commander in chief on January 20.