Donald Trump names non-educator billionaire politician Betsy DeVos Education Secretary
Union-buster Betsy DeVos waffled on Common Core, has never taught, yet President-elect Trump names Amway scion Dick DeVos's wife top teacher.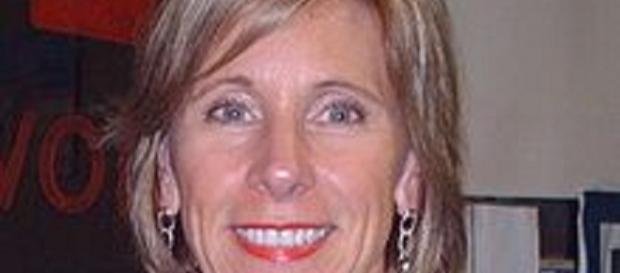 President-elect Donald Trump provoked more criticism with his selection for Education Secretary. Michigan billionaire politician Betsy DeVos has no teaching credentials and has never taught school. She's never been a school administrator. Neither she nor her Amway scion husband Dick DeVos have any background in education, but they run charter schools and now the entire U.S. education system. DeVos originally supported Common Core curriculum that Trump railed against yet he named the business woman head U.S. teacher. DeVos will be telling certified teachers how to teach and passing educational mandates from her lack of experience.
Donald Trump picks non-teacher to head education
Betsy DeVos tweeted that she was pretty happy to be selected for Education Secretary by the President-elect.
The Michigan Republican plans to make American education great by defunding public schools and pushing charter schools. Schools of choice are appealing to Mrs. DeVos and other "educational advocates" because they proclaim to better educate kids. But the real reason is lower cost--non-public schools seem to save money but in reality they cut services. Charter schools don't always have to follow the same structures as public schools in class size, support staff, buildings, accommodations or educational offerings. Teachers don't typically have the same high standards of preparation as public educators. They don't have to abide by state licensing protocol. Charter schools often have under-qualified educators and rely on public schools to provide support services.
Donald Trump, Betsy DeVos improve or cheapen education?
Many liken an Educational Secretary with no educational background to a non-medical person as Surgeon General.
A lot of voters favored Trump because he was a businessman, not a politician. So how will a politician fit the needs of Education Secretary? Will Mrs. Dick DeVos have the skill set to understand, let alone adjudicate on school initiatives? Or will it be business as usual?
Trump wants to make American great and DeVos wants to make American education great again with school of choice plans. But many professional educators question how cost-cutting will improve services. If you get what you pay for, many worry that under-funding will result in inferior educational output. Teachers point to the many ways Republicans have gouged education funding and cheapened services. They wonder how U.S. school children will fare in a global market with a bargain basement education. #EducationSecretary #BetsyDeVos #Donald Trump