Donald Trump 'furious' at Kellyanne Conway over Mitt Romney criticism, full report details
After Kellyanne Conway had strong words against Mitt Romney becoming the next secretary of State, Donald Trump was not happy about it.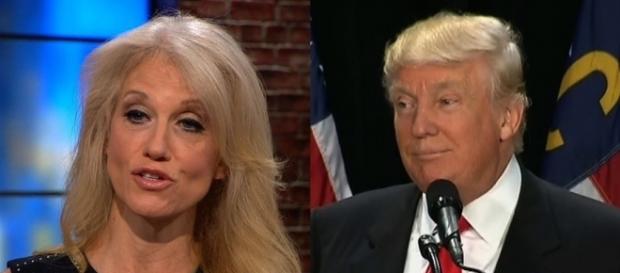 After #Donald Trump officially became the new president-elect, all eyes then focused on who he would surround himself with in the White House. With the announcement of Secretary of State forthcoming, not everyone is happy with who is on Trump's short list.
Trump backlash
The two leading candidates to run the State Department are former New York City Mayor Rudy Giuliani, and 2008 Republican presidential nominee #Mitt Romney. The possible selection of Romney caught many off guard, due to the former Massachusetts governor's strong opposition to Trump during the election. Over the weekend, former Trump campaign manager #Kellyanne Conway came out strongly against Romney becoming the Secretary of State, going as far as questioning his loyalty during an interview on NBC's "Meet the Press." According to sources via MSNBC's "Morning Joe," and reported further by The New York Daily News on November 28, Trump is not happy with his former campaign manager.
BREAKING - Sources: Trump 'furious' over Conway comments about Romney https://t.co/Sd4kogEPGz

— Morning Joe (@Morning_Joe) November 28, 2016
According to two sources close to the transition team, "Donald Trump was 'furious' at Kellyanne Conway's comments on Sunday suggesting Trump betrayed his supporters by even considering Mitt Romney for a position in his cabinet, "Morning Joe" co-host Mika Brzezinsi said Monday morning. The sources claim that Trump believes Conway is now "pushing her own agenda" after going "rogue."
Conway's comments came after she initially sent two tweets on the issue, where she claimed to have received messages from angry Donald Trump supporters who consider a Romney appointment as "betrayal." Conway has not provided evidence to back up her claims, which adds further fuel to the fire.
Kellyanne Conway was hired as campaign manager this past August, and helped turn around the Trump campaign which eventually led to his victory over Hillary Clinton earlier this month.
Next up
Donald Trump is scheduled to meet with Mitt Romney again on Tuesday in a follow-up interview, while Giuliani is also still in the running. On Monday, Trump will also meet with retired Gen. David Petraeus, who is considered a long-shot for the position. Trump has less than 60 days to finalize the rest of his cabinet, before being sworn in as the next president on Inauguration Day.