Donald Trump being considered for state visit to the UK
The UK Government is considering inviting Trump for a state visit according to Downing Street.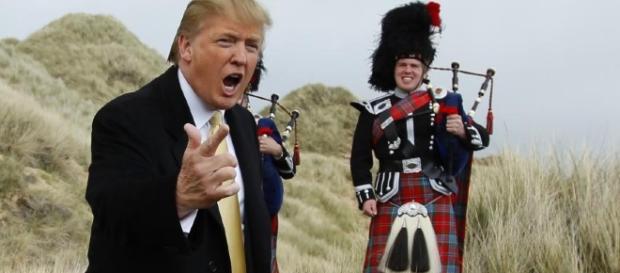 Donald #trump may be invited for a state visit by the UK Government, Downing Street has claimed. Trump shocked the world earlier this month when he beat Hillary Clinton in the 2016 US election to become the 45th president of the United States of America, much to the displeasure of a large numbers of his detractors.
Trump is set to take office in the White House in January of next year and his rise from reality star to president has been nothing short of controversial.
Trump controversies
Trump's controversial comments regarding Muslims and Mexican immigrants have been well publicized, as has his perceived attitude towards women, leaving many to question what exactly will be in store for America when the 70-year-old takes up the office at the start of next year.
Trump's victory at the 2016 US election has been deemed as one of the most shocking political upsets of all time. Many are questioning why the outspoken businessman had been chosen by the American people instead of a senior politician such as Hillary Clinton. Reasons why ranged from Trump's use of persuasion techniques, to Americans being disenfranchised with regular politicians, or,as Barack Obama has suggested, the use of social media making it difficult to differentiate between truths and lies.
Trump and the UK
During the run up to the US presidential election, members of parliament in the United Kingdom debated whether or not to allow #Donald Trump into the UK, after an online petition was signed by over 570,000 people to ban the billionaire from Great Britain. However, the debate ended without a vote with politicians describing Trump as "extremely dangerous" but that a ban would risk making the property tycoon look like a "martyr."
Now that Trump is set to take over from Barack Obama in the White House, the UK Government has spoken about the importance of keeping a "special relationship" with the United States.
Current British Prime Minister Theresa May's spokeswoman claimed that a state visit to the UK for Trump in 2017 was "under consideration".
What is a state visit?
The UK Government usually issues two state visits a year, on the advice of the Foreign Office. The state visit is a formal trip to the UK attended by people of importance from foreign countries, with the Queen acting as host and the invitee usually staying as a guest at either Buckingham Palace or Windsor Castle. Outgoing president Barack Obama attended a state visit to the UK in 2011. #Politics