DNC chair front runner Keith Ellison has ties to Nation of Islam and Muslim Brotherhood
Ellison will take the Democratic Parry far to the left as Trump becomes president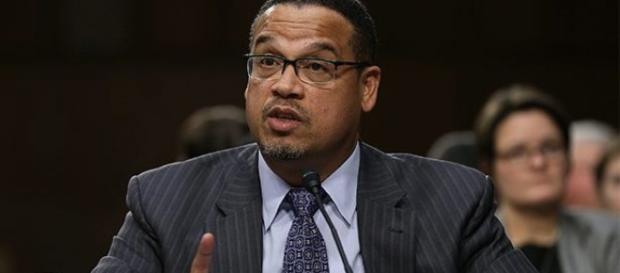 Much is being made of the controversial past of various people in President-Elect Donald Trump's orbit, including Steve Bannon, the newly minted White House Counselor, who is being accused, falsely, if being an anti-Semite. However, it looks like the Democrats are preparing to name as the head of the Democratic National Committee a man, Rep Keith Ellison, who used to be a member of Louis Farrakhan's Nation of Islam. Ellison, a member of the farthest left of the left of the #Democratic Party, has been endorsed not only Sen. Bernie Sanders and Sen Elizabeth Warren but also Sen. Chuck Schumer, according to the Weekly Standard.
The Nation of Islam, for the uninitiated, is a virulently anti-Semitic, racist organization that preaches Black Nationalism and a doctrine that the Prophet Mohammed would likely find, mildly speaking, strange.
Ellison broke with the group and became a mainstream Muslim just in time to run for Congress in 2006. He represents a deep blue district in Minnesota and faces not serious opposition.
Even more disturbing is the revelation that Ellison's hajj to Mecca in 2008, a pilgrimage required of all Muslims, was bankrolled by the Muslim America Society, a group with ties to the Muslim Brotherhood, a terrorist group. Ellison had his hand slapped by the House Ethics Committee for failing to disclose the trip as a gift to a public official, according to the Daily Caller.
Finally, Ellison flirted with 9/11 trutherism by comparing the terrorist attacks to the Reichstag Fire. He has since walked back those comments.
Why the Democrats want such a man leading their party is something that is open to conjecture.
A theory has arisen among the Democratic Party is that the reason it failed so spectacularly in the 2016 election is that it did not go far left enough. In that context, naming Ellison as DNC chair would make sense.
On the other hand, Ellison's appointment will likely write volumes of talking points by the Republicans as they show how out of touch and toward the fringe the Democrats have become. Naming a man with ties to the Nation of Islam and the Muslim Brotherhood is not likely to attract the white, working class nor mainstream minorities who embraced Trump in 2016. It presages years more in the wilderness. #Terrorism