Cuban Americans in Miami celebrate the meaning of Fidel Castro's death
Death of Cuba's former communist president sparks inspiration for the oppressed.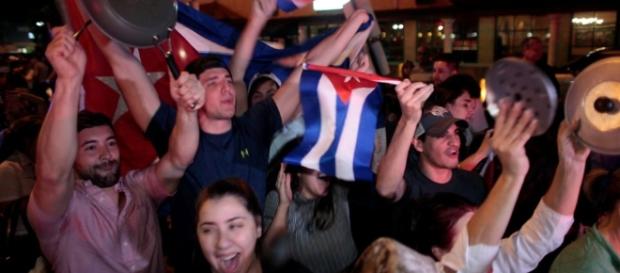 #Fidel Castro is dead at age 90. Despite the fact that the communist leader passed the baton of rulership to his brother Raul in 2008, many Cubans still felt the weight of his oppression. Hundreds of locals from Little Havana, Hialeah and Kendall poured into Florida's streets with cheers, banging pans, honking horns and waving flags. Filled with raw emotion, some tearfully carried photos of loved ones who were no longer here to witness the moment. After years of rumors and false alarms, this time the news of Castro's death was not a joke. It was true. Interestingly, Fidel Castro has outlasted several U.S. Presidents.
Since 1959, large sections of the Miami-Dade area had been shaped by exiles who fled Castro's guerrilla campaign and regime.
Although the crowds were fully aware of the octogenarian's frail health and that his imminent death would not equate to immediate change, the news overwhelming created hope for a different future. Outside the popular Cuban hangout restaurant Café Versailles, celebration permeated the atmosphere with chants of "#Cuba si! Castro no!" They chanted because soon after Fidel Castro's revolution over 50 years ago, many of them or their relatives fled their country for the U.S. They left behind loved ones, their businesses and possessions. Most never returned even for a visit.
Loved by some and hated by many
Some Cuban Americans gathered nearby at the Bay of Pig memorial to honor those who tried but failed to free Cuba from Fidel Castro's grip during the 1961 Bay of Pigs invasion. Today, Cuban Americans weep for their parents and grandparents resting in cemeteries because they never had the chance to return to their homeland under a democratic regime.
Nevertheless, hordes of Cubans do live successful lives in Florida and elsewhere in the United States.
What's next for the Castro family?
Even though Fidel Castro gave up his reign of power several years ago, his influence remained strong. It is believed that he leaves behind 11 sons and daughters, some of whom were born out of wedlock. With the exception of two sons and Fidel's wife Dalia, little is known about Castro's immediate family. Due to the alleged 600 plus assassination plots and/or attempts, Castro felt it was necessary to keep his family veiled in secrecy. Most Cubans would not know them if they bumped into each other on the street. Fidel Castro's remains were cremated this morning with his brother Raul Castro declaring nine days of mourning on the island. #World Politics