CNN host shuts down interview after guest uses 'N word' during live broadcast
A CNN segment was forced to abruptly be put to an end after a guest used the 'N word' when discussing Donald Trump supporters.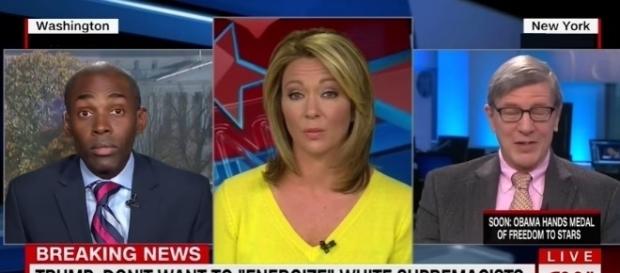 The aftermath of the 2016 election has caused emotions and tempers to run high. This emotion has run rampant on cable news, and it might have finally gone too far.
CNN shutdown
Over the course of the election, #Donald Trump would often be accused of racism, sexism, and other forms of prejudice. From referring to illegal immigrants from Mexico as "rapists" and "murderers," to proposing a ban on Muslim immigration from the Middle East, a section of Trump's voting base has cheered these policies, while bringing the term "#Alt Right" into the mainstream. Former Ku Klux Klan Grand Wizard David Duke has been public in his support for the billionaire real estate mogul, while Breitbart News' Steve Bannon, an accused white nationalist, is now Trump's Chief Strategist.
These issues were discussed during a November 22 panel segment on #CNN, as reported by Mediaita.
(The N-word is used around 1:40 in the above video.)
Joining CNN host Brooke Baldwin was Paris Dennard, an African-American Trump supporter, and Charles Kaiser, a white critic of the president-elect. The main topic of discussion was the rise of the "alt right," and Trump's relatively timid response to their words and actions. As Kaiser was making his point against the "alt right," he focused on Bannon's history, but did so in a controversial way. "If you don't want to support the alt-right, don't choose as a White House counselor a man who uses the word n***er," Kaiser said. "Wow," Baldwin said, as she, along with Dennard looked on in shock.
WATCH: @BrookeBCNN Cuts Interview Short to Deliver Emotional Rebuke of Racist Language https://t.co/IRG3hhO8GZ pic.twitter.com/Zphqvp1KuB

— Lindsey Ellefson (@ellefs0n) November 22, 2016
In response, Baldwin explained to Kaiser, "Charles, just hang on a second.
appreciate you going through all of this but please don't use the n-word on my show." As the conversation became more intense, Baldwin decided to cut their mics, and end the show out of disgust for the use of the N-word. "Alright, gentlemen. We're done. We're done," Baldwin said, before concluding, "The more I've sat here and listened to the fact that somebody used the n-word on the show...It is not okay!."
Moving forward
The appointment of Bannon, on other questionable nominations like Sen. Jeff Sessions and retired Gen. Michael Flynn, only continue to raise doubts about the administration. While Donald Trump appeared to disavow the movement during an interview with The New York Times on Tuesday, only time will tell how the president-elect handles the issue in the future.