Breaking: Water protectors take barricade and confront police brutality on #NODAPL
At this very moment courageous water protectors attempted to take the highway 1806 barricade and are bravely confronting police brutality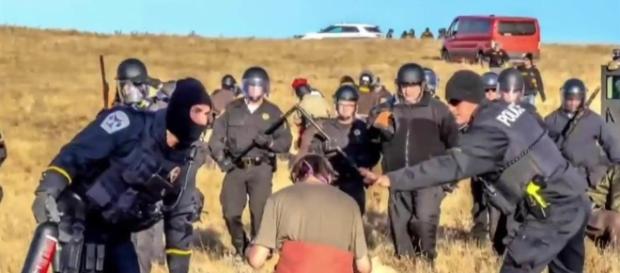 We are 20 days into the month that the United States claims is "Native American Heritage Month." How has the US chosen to honor its Native people? A video shared via Facebook by Indigenous Rising Media shows at this very moment courageous Oceti Sakowin (Sioux Nation) patriots, water protectors, and allied indigenous peoples are experiencing vicious #Police Brutality of North Dakota Gov. Dalrymple's fascist police state. Water protectors are being tear gassed, sprayed with water in the frigid North Dakota winter, maced, and shot with rubber bullets. Clearly, not even the vehement condemnation of the United Nations has motivated President Obama to intervene.
The cowardice of fascism
Loud booms can be heard as canister after canister of tear gas is fired into the air forming an arc of hate filled smoke in the sky above the courageous crowd. They are reportedly outnumbered. There are approximately one thousand North Dakota law enforcement, private security, and National Guard personnel. The air cracks as one can hear the pops of rubber bullets fired into the brave bodies of approximately four to five hundred courageous water protectors. The sky fills with clouds of noxious mist as stream after stream of mace from high pressure cannons is fired at the protectors. Reportedly at least 50 have been shot with rubber bullets, approximately 20 injured, at least one seriously enough to require medical evacuation. Despite the carnage the traditional Oceti Sakowin (Sioux Nation) war cries ring out of the darkness in defiance.
In response, Dalrymple's cowardly fascist agents of #Climate Change even dare use water as a weapon.
Civil rights emergency
In a move disgustingly reminiscent of the infamous videos of the 1960s, showing African Americans being sprayed with fire hoses by racist white nationalists opposed to the African American struggle for civil rights, these fascists are using a water canon as a weapon. They are reportedly draining water from the nearby Canon Ball River to try to freeze the courageous protectors. As if to add insult to injury, these haters of nature and defenders of neoliberal corporate capital are wasting the very resource the water protectors seek to defend from their poisonous intentions. Not only for themselves, but for the 18 million North Americans whose water supply risks contamination by the Dakota "Excess" pipeline. Yet another cry rings out of the darkness in courageous defiance Mni Wiconi! (Water is Life!) he cries out.
Behind the barricades
The conflict reportedly began when courageous water protectors attempted to use a semi truck to remove the vehicles presently blocking highway 1806. The barricade was supposed to have been removed two weeks prior, but Gov.
Dalrymple's fascist forces refused. The blockade has allowed for the continuing construction of the pipeline despite the Obama administration's earlier impotent request that Dakota Access "voluntarily pause construction." Instead, Dakota Access sped up construction at an alarming pace and is presently poised to begin drilling beneath so-called Lake Oahe. Oahe is in fact part of the Missouri River turned into a reservoir as a consequence of the 50 years earlier illegal construction of dams along the Missouri flooding large portions of Oceti Sakowin (Sioux Nation) treaty territory.
Stand with Standing Rock
All those who love liberty must stand with Standing Rock. That the Obama administration continues to allow these abuses is a threat to everyone's civil liberties. Especially considering the incoming administration of white nationalist neoconservative fascists under #Donald Trump. Approximately 500 people stand between us and the destruction of the Environment. Their war cries of Mni Wiconi! (Water is Life!) ring out of the darkness as the voice of freedom. They will not go gentle into that good night. Not without a fight.