Barron Trump's play date came with heavily armed protection at Mar-a-Lago on Thanksgiving
Donald and Melania Trump's son enjoyed Thanksgiving with friends amid Secret Service and Coast Guard protection.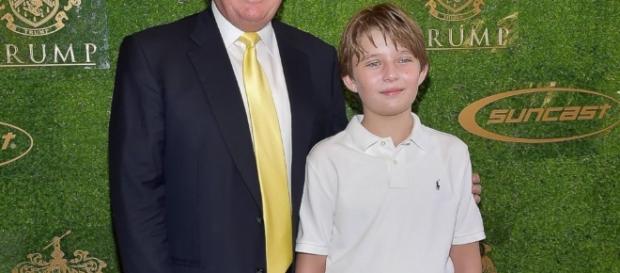 Barron #trump is the nation's most protected 10-year-old. He has to be the safest child on the planet right now -- as evidenced in photos on how he spent his Thanksgiving weekend. Donald and Melania Trump's son had a play date that came with heavily armed Secret Service agents, Coast Guard detail, and air protection.
Barron Trump has armed play date
Barron spent time with friends on the lawn of his parents' Mar-a-Lago estate in Florida. Several photos were published by TMZ of the boy on the vast lawn as Coast Guard boats patrolled the shoreline. Large guns were seen in the images. Barron was wearing a white shirt, shorts, and a red baseball cap.
The tall 10-year-old played with various children that were at the estate during Thanksgiving weekend. It's unknown if they were also the kids of his older brother and sisters.
According to the report, Barron Trump and the rest of the president-elect's family will be assigned up to 920 Secret Service agents. Barron will have his own Secret Service driver take him to school in an armored vehicle and agents will check the building before he enters to make sure it's safe. Melania and Barron will remain in NYC at least until next June so Barron can finish the fourth grade. He attends Columbia Grammar and Preparatory School in Manhattan's Upper West Side. Arrangements to keep him in school a while longer is a concern for some of the other students' parents, as they feel it puts their children at risk.
Youngest Trump child already a big star
Barron Trump is already a star in his own right. He'll be the first son that the nation has seen since John F. Kennedy, Jr. back in 1963. The young boy was also a hit in Japan after his father's acceptance speech for President of the United States on November 8.
The nation hasn't been privy to seeing the youngest Trump child other than his weary late-night appearances with the rest of the family throughout the presidential campaign. His next big appearance will be at the inauguration on January 20, 2017. #barrontrump #News