Authorities confirm 77 people were on board of plane that crashed in Colombia, 6 survived
The plane was taking Brazil's Chapecoense soccer team to the Copa Sudamericana finals.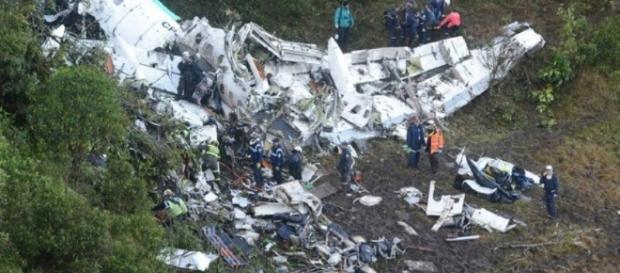 Authorities informed that 71 bodies were rescued from the crash site and would be taken to the Medical Legal Institute of Medellin. Six people were rescued alive and were taken to the hospital. People who have died are soccer players such as, Alan Ruschel, Hélio Zampier Neto and Jackson Follmann, flight attendant Ximena Suarez, journalist Rafael Henzel, and aircraft technician Erwin Tumiri. Unfortunately, a seventh victim who was rescued alive died later at the hospital. He was the #Soccer goalkeeper Marcos Danilo Padilha.
Survivors are not in good condition
Jackson Follmann had one of his legs amputated. Another, Alan Ruschel had several fractures in his arms and legs, and suffered a serious spinal injury.
Alan went through surgery and is now at risk of becoming a paraplegic. Hélio Neto, another member on the flight, received many injuries on his face as well as a traumatic brain injury.
The original list of passengers included 4 people who did not board. They are: Chapeco's mayor Luciano Buligon, Plínio David Filho, Gelson Merisio, and journalist Ivan Carlos Agnoletto.
Tragedy in the air
The plane took off in Santa Cruz de la Sierra, Bolivia, and was supposed to land in Colombia. Although the plane was considered to be in the best conditions to flight, it lost contact with the control tower and crashed on its way to the José Maria Córdova airport, near Medellin. Authorities at the airport informed that the plane declared an emergency due to technical failure by 10:00 p.m. (local time).
Colombia's Atletico Nacional wants Chapecoense to be declared Copa Sudamericana champion
Colombia's soccer team Atletico Nacional would be competing against Brazil's #Chapecoense this Wednesday for the Copa Sudamericana finals if it wasn't for the #Plane crash that killed almost their adversary's entire team.
Now, the Atletico Nacional has published a formal note expressing its wishes that Chapecoense takes the trophy home. Conmebol - the South American Football Confederation - is likely to accept the request, but it's not clear when it will be confirmed due to the fact that this is an unprecedented situation.