ACLU threatens to sue Trump over immigration policies, other proposals
American Civil Liberties Union throws down legal gauntlet over some of Trump's proposed policies; calls proposals 'un-American and wrong-headed.'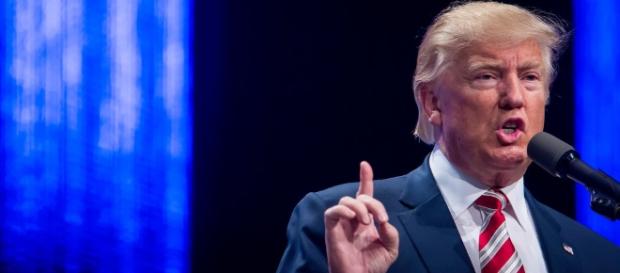 As thousands of people take to the streets in cities across America to protest the election of Donald Trump as president, the American Civil Liberties Union is throwing down the legal gauntlet over some of his campaign pledges. In a full-page ad in the New York Times, the civil rights advocacy group, which says it has more than 300 attorneys across the country, is clearly giving the President-elect an ultimatum to either change some of his proposed policies, including deporting millions of undocumented immigrants in the U.S. and banning Muslims from entering the country, or be dragged into court. In the letter, written by ACLU executive director Anthony Romero, the group terms those proposals, as well as threats to reauthorize waterboarding and to change the nation's libel laws, as "un-American and wrong-headed."
"If you do not reverse course and instead endeavor to make these campaign promises a reality, you will have to contend with the full firepower of the ACLU at every step," Romero wrote in the letter, which appears in the ad, as well as on the union's website.
"Our staff of litigators and activists in every state, thousands of volunteers, and millions of card-carrying supporters are ready to fight against any encroachment on our cherished freedoms and rights."
ACLU: Trump "one-man constitutional crisis"
The ACLU says Trump's proposals violate the First, Fourth, Fifth, Eighth, and Fourteenth Amendments. Earlier this year the group released a highly-critical report of Trump's plans, referring to him as a "one-man constitutional crisis."
Trump claims his policies will boost wages
For his part, Trump had said during the campaign that his stance against illegal immigration will boost wages and would serve, in his words, "the best interests of America and its workers." In the last days of the campaign he also claimed that if Hillary Clinton were to be elected to the presidency, because of the controversy concerning her emails sent over a private server, she would likely be facing a felony indictment that would result in an "unprecedented constitutional crisis."
Thousands marching in streets across America in protest of Trump victory
Meanwhile, Saturday night marked another night of anti-Trump protests, with thousands of people marching in the streets of major cities across the U.S, including New York City, where thousands of demonstrators protested outside Trump Tower, the headquarters of his business empire.
Most of the protests have been relatively peaceful, though a protest in Portland, Ore. late Friday was declared a riot by police. #anti-Trump protests #Donald Trump #Election 2016