A Brief Guide on the Standing Rock Protests
In recent months, protestors in Standing Rock, N.D. clash with authorities, but many Americans are still unclear on the facts.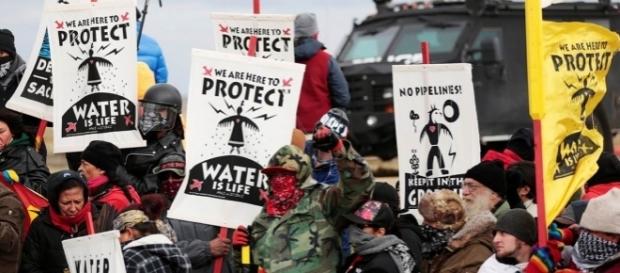 In Standing Rock, N.D., opponents to the Dakota Access Pipeline (or DAPL) have passionately protested for months, entering the global spotlight and arousing the sympathy of thousands. The protests spark an important conversation on the legality of federal authority on tribal lands. In September, a judge denied a request to temporarily halt construction, and most recently the Army Corps of Engineers announced an impending eviction on December 5.
BREAKING: Army Corps of Engineers Says It Will Close Down Standing Rock water protectors camp as of December 5th #NoDAPL pic.twitter.com/KaTMOLz3Vr

— Jordan (@JordanChariton) November 25, 2016
But before launching this important discussion, people need to know exactly what is going on.
Who is protesting the Dakota Access Pipeline?
For several months, the Standing Rock Sioux Nation has voiced its concern over construction. But recently, individuals from across the nation and the world have rallied around the native tribes. Protesters hail from Asia, Europe, and Australia, and organizations in support of the native tribes include Black Lives Matter, Code Pink, and Veterans Stand for Standing Rock.
However, not everyone is on board. In nearby Cannon Ball, N.D., residents are dissatisfied with the protests, claiming hypocrisy and madness. One local alleges the tribes could have opposed the pipeline earlier but were apathetic at the time, and the frenzy surrounding the protests has swallowed the small town, making it hectic and fraught.
Why is there opposition in Standing Rock?
Opponents claim the pipeline destroys significant Native American cultural sites, and it could contaminate and pollute the Missouri River, the main source of water for the tribes.
Although some argue that the tribe has known about replacing the water intake since 2003, most protesters are participating out of principle: The land belongs to the Sioux, and they believe it is wrong to take it away.
Is there a chance the #NoDAPL protesters could succeed?
As the construction nears its completion and the Standing Rock tribes exhaust all legal options, success appears slim. The Army Corps has promised to arrest any trespassers after the eviction date, an action that could potentially cut opponents off at the knees. If the opposition persists through January, President-elect Trump has the potential to shape protests as well. #StandingRockProtests