5-year-old boy calls 911 and invited police officers to Thanksgiving dinner
Police officers showed up at home of mother of boy who invited them to dinner without her knowledge.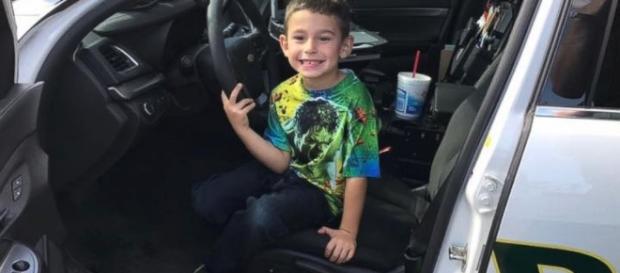 A 5-year-old boy took it upon himself to invite police officers to dinner at his house on Thanksgiving Day. His mother and the rest of the family had no idea what her son had done until the officers actually showed up. Billy Nolin's mother was in the kitchen preparing food when he made the 911 call.
5-year-old calls 911
The boy's grandfather saw Billy talking on an old cell phone. When Billy confessed he had called #911, his grandfather reprimanded him. Just as the boy began to cry, Deputy Bannon Byrd showed up along with Deputy Aaron Ethridge. Deputy Byrd thanked Billy for his generous invitation. Then he explained to him that he should call 911 only in case of emergencies.
He gave Billy a sheriff's badge and let him sit in the police car.
Even though what Billy did was not the right thing to do, Monica Webster of the Walton County Sheriff's Office said his call was a happy one considering so many calls come in with bad news. News of what the Florida boy had done was published in the local newspaper.
News about the boy's invitation
It was reported that the little boy melted the hearts of those in the sheriff's office with his Thanksgiving invitation. While the purpose of 911 is for reporting emergencies, it made people smile. The sheriff's office cautioned people not to use 911 unless there is an actual emergency. However, officials said they were so honored to have gotten the invitation from the young boy.
Billy told the Northwest Florida Daily News that he wanted the police officers to have cheesecake with his family.
He said cheesecake is his favorite dessert, and he wanted to share it with the police. The Walton County Sheriff's Office wrote on Facebook what Billy had done and how honored they were.
What do you think about what the 5-year-old boy did? He did what he thought was the right thing to do on the traditional holiday that is about giving thanks for what you have and sharing with others. No doubt Billy learned a valuable lesson about calling 911. He will probably not do it again, but he might seek other ways to share as he grows older. #Thanksgiving dinner #Thanksgiving Day