Michael Vance shot and killed by police officers in Oklahoma during a shootout
Now after a week long manhunt, Michael Vance is dead after police found him today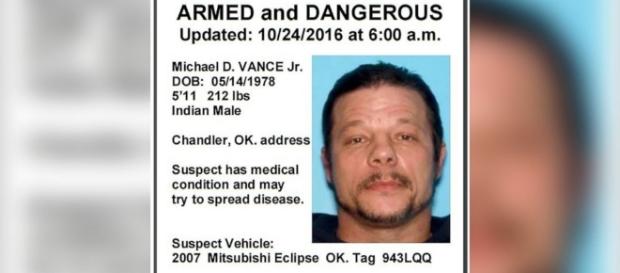 After a week-long manhunt, Michael Vance has been shot by #Police officers in Oklahoma. This all started last Sunday when he got into a shootout and shot two police officers. These officers were injured, but not killed. Since then, police have been looking for Vance after various people spotted him. Now tonight after shooting a deputy sheriff, Vance is now dead. A shootout with officers ended up taking his life. 
How did it all down?
Michael has been quiet all week and today police officers were finally able to find Michael Vance. They ended up in a shootout according to KOCO Channel 5 out of Oklahoma City. One officer was shot but has been taken to OU Hospital by helicopter.
Michael Vance was shot and killed by police officers in this shootout tonight. He died on the scene of the shootout. 
Word came out right before 10 p.m. about the shooting, but the reporters found out about the deputy being shot before it was revealed that Michael Vance was shot. They had surrounded an area about four miles south of Leedy, and this is where Vance was shot. The deputy sheriff's car had the windows shot out of it, but a lot of details are not being revealed at this time. 
Update on the sheriff deputy that was shot tonight
Channel 5 KOCO gave out breaking #News tonight as well about what went down with Michael Vance. They were able to confirm that the sheriff deputy that was shot was actually the Sheriff himself, but his injuries are considered non-life threatening. He was shot in the shoulder and the elbow.
Reporters are on the scene and updating about what is going on. Everyone is glad to hear that it was a non-life threatening injury to the Sheriff. Right now they have Highway 34 in Oklahoma shut down while officers investigate the scene where everything went down tonight. 
Are you shocked to hear that Vance was shot and killed by police officers tonight? Were you worried to go outside in rural Oklahoma? Sound off in the comments section below on your thoughts about the death of this fugitive tonight. #MichaelVance