Hillary Clinton: why are you silent on Dakota Access?
Tara Houska of Honor the Earth critiques Presidential candidate Hillary Clinton for failure to take a position on Dakota Access on Democracy Now!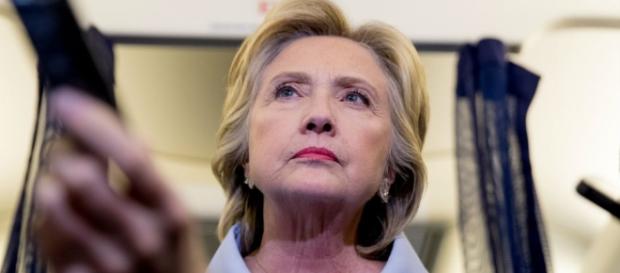 In a "Democracy Now!" interview Tara Houska of Honor the Earth called out US Democratic Presidential candidate #Hillary Clinton for her failure to defend the rights of indigenous peoples on the question of the Dakota Access pipeline. Houska stated that Clinton claims to be pro-indigenous and has created a platform for indigenous peoples as a part of her campaign, but Hillary Clinton remains silent on Dakota Access. Houska correctly asserted that the fight against the Dakota Access pipeline is the single biggest issue among indigenous voters today.
The indigenous vote.
Clinton's silence on the issue is in stark contrast to the support indigenous peoples receive from Vermont Senator Bernie Sanders who has called for pipeline construction to be permanently halted.
Sanders was overwhelmingly favored over Clinton by indigenous voters in the Democratic Primary, and her failure to address the issue of Dakota Access may hurt her chances among indigenous voters in the general election against #Donald Trump. Hillary Clinton has also said nothing about the police brutality against water protectors under Governor Dalrymple. Nor has she spoken on the consistent violation of indigenous peoples' civil rights.
Police in riot gear disrupt Native American ceremony, Dakota Access breaks law.
Houska said before a ceremony the water protectors offered police water, sage and sweet grass to show they were nonviolent. The ceremony was met with police in riot gear who claimed, when water protectors set up a traditional Plains Indian teepee lodge, that the protectors were "rioting." It is interesting how the police continue to maintain that the water protectors are rioting, when it is the police that show up in force in "riot" gear.
Who is trying to incite violence here? LaDuke stated that Dakota Access has misused a law to bypass environmental impact statements necessary for Dakota Access pipeline construction and has called upon President Obama to do something about it for the sake of the environment.
State propaganda against water protectors.
More disturbing is state propaganda used to turn the white settler colonial population against the water protectors and indigenous peoples generally. Houska expressed concern that some person frightened by the anti-indigenous hysteria created by Governor Dalrymple might result in an escalation of violence against indigenous peoples. This is precisely how the 1890 Wounded Knee Massacre started. A massacre defended by none other than beloved children's author L Frank Baum of "The Wonderful Wizard of Oz" in two newspaper editorials for the "Aberdeen Saturday Pioneer" that called on the US government to exterminate all indigenous peoples for the "safety" of the white settler colonial population.
Goodman interviews concert goers
At the indigenous owned Prairie Nights Casino after a concert by the band "America" Amy Goodman of "Democracy Now!" interviewed several concert goers. By and large they made many incorrect statements such as "pipelines are safer" than carrying oil by trucks, the Indians should have "gone through the courts", "pipelines will not hurt the water" etc. Some said that the pipeline is not the business of indigenous peoples and they should "go home."
Natives are already home
A telling statement was by someone who Goodman asked, if white North Dakotans were able to move the pipeline route when it was originally planned to go through north of Bismarck, shouldn't indigenous peoples have the same right? He said yes, when asked "Why don't they?" He responded, "That's a good question, I don't know." In response, LaDuke schooled us on how pipelines are most assuredly not safe. Pipeline leaks are a certainty, one leak causes 20 thousand gallons of fracked oil a minute to flow into our water supply. That indigenous peoples are told to "go home" when they are already in their territory is telling. Indigenous peoples are already home, and Governor Dalrymple has no jurisdiction in Oceti Sakowin (Sioux Nation) territory. #Bernie Sanders