'Real Housewives of Atlanta': NeNe Leakes in ugly encounter with fan at the airport
Don't miss our Facebook page!
Like Blasting News page on Facebook: we will keep you updated with all the latest news.
John Muir noted 150 years ago that Yosemite's Lyell Glacier was a river of ice that stretched for 1,000 yards, but since that time has shrunk to 66 acres. Called a living glacier by Muir, global warming alarmists point to it as proof of climate change. So did President Obama this summer. There's only one problem: the glacier has been steadily melting since we left the Little Ice Age in 1850.
Those who visit the Lyell Glacier can hear the steady whoosh of water flowing under its massive base, exposing bedrock up its spine.
Obama pointed to Lyell Glacier as evidence of climate change when he visited Yosemite National Park in early June. Obama said the glacier had once been a mile wide, "but now it's almost gone." His visit came shortly after the United Nations released a report on famous landmarks that global warming may destroy. It was a perfectly orchestrated plan to justify more regulations before leaving office.
Obama Visits Yosemite Park, Spends Trip Worrying About Global Warming https://t.co/zXJXgpxPvw via @dailycaller

— Christopher D. White (@ZanderKelly30) June 19, 2016
Global warming not the culprit
Yet Yosemite geologist Greg Stock and naturalist Pete Devine said their research does not show that global warming is behind the melting glaciers, despite increased greenhouse gases.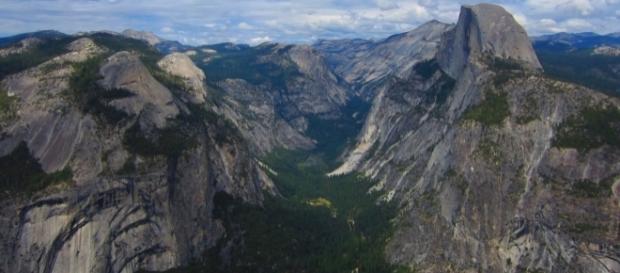 Devine and Stock say the glaciers that still remain in the park—a remnant from the last glaciation over 15,000 years ago—are responsible for the park's iconic landscapes. Over time, the glaciers have created such formations as El Capitan, the Half Dome, and the Yosemite Valley that brings in visitors from around the world.
During the last glaciation, 75 percent of Yosemite was covered by behemoth-sized glaciers, which carved up and scored the ground, chiseling out the park's smooth granite.
But the two largest glaciers, Lyell and Maclure, may be gone in few decades. Devine believes Lyell glacier, named after the eighteenth-century geologist Charles Lyell, will be a "corpse" in 20 years. But should natural changes in nature get blamed on global warming?
From the Sacramento Bee, a sobering look at climate change and the fate of a Sierra Nevada glacier: https://t.co/BIxU5LtyrA.

— Southern Sierra (@southern_sierra) October 5, 2016
Moving like a glacier
When Muir described the glaciers of Yosemite he was mocked by the 'consensus' geologists who said he had only discovered ice fields and not actual glaciers.
So Muir and Galen Clark, a Yosemite Park supervisor, devised a science project. They planted five stakes in Maclure Glacier and returned after a month and a half. Muir found all the stakes had moved and one had traveled nearly 47 inches. That was in 1875. Muir also noted the Lyell Glacier was less than a mile long and probably had an original length of over forty miles during the last glaciation.
Four years ago, Stock, Devine and Robert Anderson (a geologist) repeated Muir's stake test in the Lyell and Maclure Glaciers.
When they came back, there was no movement of the Lyell Glacier. But the Maclure Glacier was moving roughly one inch per day, the same speed John Muir wrote about in 1875. Despite the climate change hype, things were happening at the same speed as 150 years ago.
Obama Makes Global Warming Pitch At Yosemite With A 40-Car Motorcade https://t.co/qCfL5vzMjk via @dailycaller #tcot

— Richard (@richard_77777) June 21, 2016
That's because Stock and the other researchers had proven the Maclure Glacier wasn't shrinking faster when compared to 1875, despite higher CO2 levels.
From 1883 to 2015, Maclure had shortened roughly 64 acres. Lyell's mass has shrunk, but its length has remained the same. That's in line with what Professor Jeffrey Schaffer of Napa Valley College wrote in his extensive guidebook to Yosemite National Park: The glaciers in the valley above "5,600 feet haven't changed much in the past 30 million years."
Click to read more
and watch the video