Trump's chief surrogate, fast-food fetcher Chris Christie knew about 'Bridgegate'; report
New Jersey Gov. Chris Christie knew in advance about plan to shut down George Washington Bridge lanes as act of political retribution say prosecutors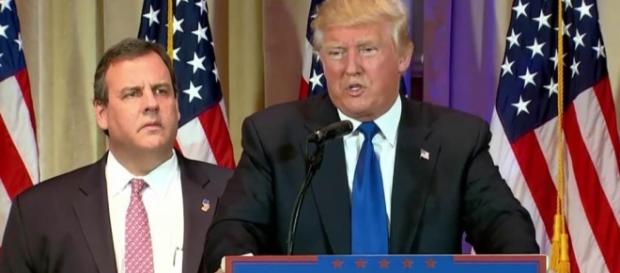 New Jersey Governor Chris Christie has been ridiculed for many things, including being a "fast food fetcher" for Donald Trump. According to a report in the New Yorker recently, Christies has been relegated to being Trump's "manservant" in going out and fetching fast food orders for the billionaire. It was Christie that was universally panned at a political event with the "expression" on his face.
Christie claimed he know 'nothing' about Bridgegate
Opening statements began in the federal court trial of the so-called "Bridgegate" scandal. New Jersey Governor Chris Christie has maintained all along that he know "nothing" about the intricate plan to shut down lanes on the George Washington Bridge in New Jersey connecting to New York.
In September of 2014, the Port Authority of New York and New Jersey unexpectedly closed two of three access lanes from Fort Lee to the George Washington Bridge. Bridget Anne Kelly, Christie's former deputy chief of staff, and Bill Baroni, a Christie-appointed Port Authority official, are on trial. Christie-appointed Port Authority official, David Wildstein, has turned on Kelly and Baroni in a guilty plea in exchange for testimony against the two. In an opening statement, prosecutors declared the pair "bragged" to Christie about the lane closures as they were happening.
Breaking News: Chris Christie knew about the scheme to close George Washington Bridge lanes, prosecutors said https://t.co/XeH475KuKI

— The New York Times (@nytimes) September 19, 2016
Christie immediately fired Bridget Anne Kelly to the residents of New Jersey residents, and claimed he was "blindsided" and "stunned by the abject stupidity" of those close to him. The defense is turning on Wildstein, calling him a vindictive liar.
For christie's part, the "Bridgegate" scandal has done irreparable harm to Christie's political career as his popularity in New Jersey has plummeted. In addition, Christie's campaign for President never got off the ground. when it came to choosing a Vice President, Donald Trump passed over Christie and he admitted the scandal was instrumental in passing him by.
Even Trump doesn't believe Christie
In fact, during the Republican primary he attacked Christie. "The GW Bridge, he knew about it," Trump said at a December, 2015, rally. "He totally knew about it." Now, the federal prosecutors are smelling something too.
Click to read more
and watch the video
or