NYC bombing suspect caught, Donald Trump falsely blames Syrian refugees during victory lap
Donald Trump made false accusations about who might have been responsible for the recent bombing in New York City.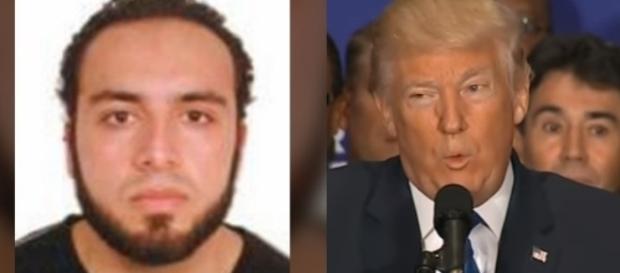 In yet another act of terror against the United States, multiple bombs exploded in New York City Saturday night. While no one was killed, dozens were left injured, though the suspect has since been taken into custody.
Terrorist busted
In recent years, the United States and much of the West have been the victim of terrorist attacks at the hands of the Islamic State (#ISIS), or by individuals inspired by their message. The usual outcome results in the suspect being killed, either by authorities and themselves. However, shortly before 12 p.m. local time, 28-year-old #Ahmad Rahami engaged in a shootout with police which ended in the suspect being taken into custody after being struck in the leg by a bullet.
CBS News reports that the suspect was recognized by an owner of a local bar who noticed Rahami was sleeping in a nearby doorway around 10:30 a.m. CBS News reported further on September 18 about the details of the capture, while contradicting the claims made by Republican nominee #Donald Trump.
Police officials reportedly found NY, NJ bombings suspect sleeping in front of a business https://t.co/UuOuSuhMQr pic.twitter.com/KzN8KIm3F5

— CBS News (@CBSNews) September 19, 2016
An American citizen born in Afghanistan, Rahami was currently living in Elizabeth, New Jersey before planting explosives in various locations in Chelsea and other parts of Manhattan. The police have since searched the family home, which is located above their family-owned restaurant "First American Fried Chicken."
This photo from @ABC7NY shows suspect being put in ambulance after shootout with Linden NJ police. pic.twitter.com/AnGeEGNFdV

— WCVB-TV Boston (@WCVB) September 19, 2016
As of press time, the attack is not linked directly to ISIS, though the authorities have not ruled out the suspect from being inspired by the Islamic terrorist message.
In addition, it's unknown if Rahami acted alone, or if others were involved.
#BREAKING: Bomb suspect arrested. (photo: Twitter/@BuffingActions). More: https://t.co/Ou17NGKcRx @BreakingNews pic.twitter.com/K0W4Ao6i7U

— CBS New York (@CBSNewYork) September 19, 2016
Trump's blunder
Within minutes of the attack, Trump quickly informed supporters at his campaign rally Saturday night that the incident was the result of a bomb. The billionaire real estate mogul was instantly hit with backlash for jumping to conclusions. While Trump was correct in his prediction that the explosion was caused by a bomb, further information provided by the former host of "The Apprentice" has been proven incorrect.
"@TarukMatuk: @CNN @FoxNews @realDonaldTrump @RogerRice10 Refugees from Syria over 10k plus more coming. Lots young males, poorly vetted.

— Donald J. Trump (@realDonaldTrump) September 19, 2016
Taking to his Twitter account just hours before the suspect was found, Trump tweeted, "Refugees from Syria over 10k plus more coming.
Lots young males, poorly vetted." Trump has continued to blame Syrian refugees for Islamic terrorist attacks against the United States, but Rahami was not a refugee, and was a naturalized citizen from Afghanistan.