Emergency Alert for terror suspect Ahmad Rahami sets off phones - NYC
As an alert went out for wanted terror suspect Amhad Rahami, everyone's phones pinged at the same time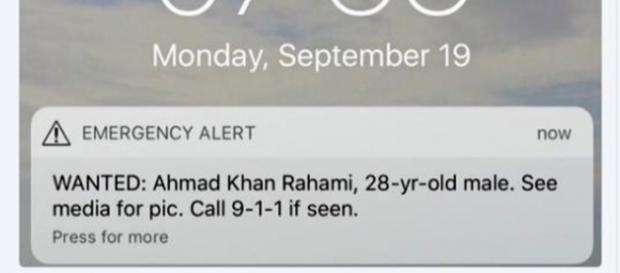 At around 8.00am on 19 September thousands of phones all went off at the same time in NYC as an #emergency alert was issued for for the Chelsea terror bombing suspect, 28 year old Ahmad Rahami. On the trains, the concert siren sounds, beeps and buzzes were apparently quite something and one Tweeter described it as "Like something out of a dystopian movie." The alert said CALL 911 If You See 28 Yr Old, Afghan Ahmad Khan Rahami. This makes him the most wanted man in New York right now.
An 'Orwellian' emergncy alert
People on social media commented that this was first time they had experienced such an event, and one person who had kids with them said they freaked out a bit.
Another said "I find this Emergency Alert very Orwellian." Those who did not get the alert now claim to be feeling a bit left out of things. Within minutes, the emergency alert started trending on twitter, but few of the people are talking about the wanted man. Some are complaining that 8.00am is just too early in the day for alerts while of course, the online humor emerges, entertaining as ever and with the dry New York "we just chilling" attitude.
Emergency alert system almost ended my life this morning. That siren sound is so unnecessary.

— Kyoshi (@FresnaShakur) September 19, 2016
An emergency alert for a terror suspect at 8 in the morning? Like what, if he happens to show up in my bed?

— Joe Dator (@JoeDator) September 19, 2016
A briefly nervous moment on the train
While it seems Ahmad is ony being sought for the Chelsea bombing at this time, Reuters reported that "the devices found in Manhattan and New Jersey were linked, according to a homeland security official." But there were more devices found over the weekend.
According to the "NY Guardian," there was the pipe bomb at Seaside Park, New Jersey hours before the Chelsea bombing and five more suspect devices were apparently found in a backpack at the Elizabeth train station, NJ, which just has to have made the people riding trains when the alert went off, a bit uneasy to say the least.
The reassuring thing is everyone silently looked then went back to their Candy Crush and crosswords.

— Daniel Bentley (@DJBentley) September 19, 2016
In an update on the attacks and devices, the "Independent" reported that "Law enforcement sources" said that five people had been picked up for questioning by FBI. Now it seems that Ahmad Khan Rahami has been identified as the mastermind behind the blast at Chelsea, Manhattan, Saturday evening. The explosion luckily did not kill anyone but there were nearly 30 people injured, with one of them reported to be in a serious condition.
Suspect considered armed and dangerous
The Mayor of New York told the media "We need to get this guy in right away," as he is presumed armed and dangerous.
"CNN" carried the report and described Ahmad as a New Jersey resident, a naturalized citizen of the USA and of Afghan descent. FBI and the New York Police Departments have released posters of the wanted man and people are urged to call 911 if they see him. #Terrorism #Crime