The American Red Cross learns how racism is "not cool"
A recent publication from the institution removed with the help of local citizen and social media.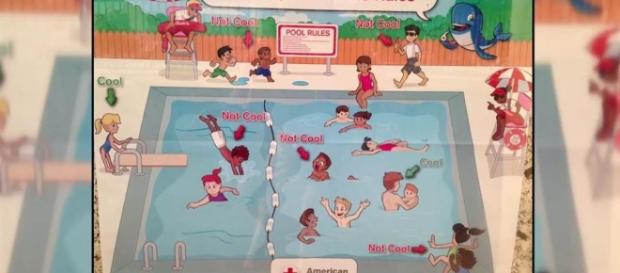 It's finally summer time. School is out and its time for fun, one of the main places people head to in order to beat the summer heat being the pool. However, a poster used to promote pool safety is coming under major fire. The American Red Cross produced the above poster, entitled "Be cool, follow the rules." using an illustration to show both good behaviors (cool) and bad behaviors (not cool) at the pool.
The problem
At first glance, there seems to be nothing wrong with the poster. But if you look closely at the image, you will begin to see the problem. The majority of the "not cool" behaviors are being engaged in by children of color while those deemed appropriate are engaged by white parents and children.
The poster was shared on Twitter by Margaret Sawyer. She decided to share the post once she discovered that the poster was a relatively new publication, believing that it was an older poster from a bygone era of very public exclusion of African Americans from public #Swimming pools. Sawyer, after reporting the poster to a nearby lifeguard, posted her picture of the poster online and followed it with a caption expressing here dislike of the poster, calling it racist, after seeing it in two separate places while traveling in Colorado.
The post immediately went viral, receiving over 2500 likes and 1000 retweets within the day. Additionally, there were further calls to action for The American Red Cross to rectify the situation. Had Sawyer not posted this image and caption on Twitter, the publication might have remained active in various communities, stressing the importance of aware, engaged and diligent citizens.
The response
The American Red Cross released a statement Monday, apologizing for the poster. The Red Cross has also expressed its dedication towards encouraging a more diverse future. The Red Cross has promised that moving forward, it will create publications, posters, and materials that are more reflective of the various and diverse communities that it, as an internationally identified and nationally supported organization, serves. The poster has since been removed from facilities, their website, another Swim App. #Policy #Summerfest