Donald Trump melts down at rally, hugs American flag, asks crowd to pick VP
Donald Trump has had a rough two weeks on the campaign trail, and it appeared to reflect during his most recent rally.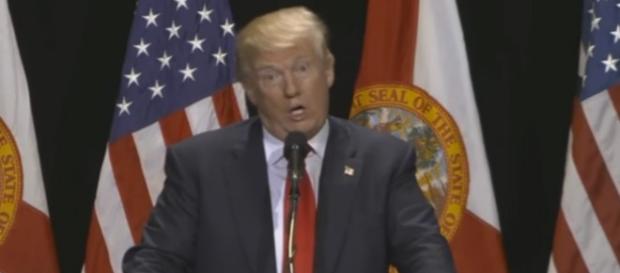 Ever since clinching the Republican nomination last month, #Donald Trump and his campaign have been going through some hard times. Whether it's the Trump University fraud case, falling poll numbers, or numerous allegations of racism, Trump is experiencing one of the worst weeks in the 11 months since he's been a candidate for president.
Trump troubles
When Trump announced his candidacy for president last summer, most media outlets and political pundits didn't give him a realistic shot at victory. Fast forward to president day and Trump is the last man standing in the GOP primary, with the convention in Cleveland, Ohio set for next month.
On Saturday, Trump stopped over in Tampa, Florida to hold a campaign rally, and his behavior was a little off, even for him, as reported by Politico on June 11.
Trump asks for VP suggestions from crowd, hugs American flag at rally https://t.co/o5vLsS2XGX pic.twitter.com/hbSCx9qkfX

— Talking Points Memo (@TPM) June 11, 2016
One of the biggest questions that remain for the Trump campaign is who will join the ticket as the running mate heading into the general election. While names ranging from former half-term Alaska Gov. Sarah Palin, to former Arizona Gov. Jan Brewer have been floated, Trump decided to poll his supporters to see who they would choose as his vice president.
(Trump hugs the flag at 31:00, and asks the could about his VP at 31:50 in the above video.)
"Who do you like?" Trump asked to the road of the crowd.
Former Secretary of State Condoleezza Rice, Arizona Sen. Jeff Sessions, and former Speaker of the House Newt Gingrich were the tops names mentioned. "I've never done this before, this is fun," Trump told the crowd, ensuring them, "We have a lot of good people, you'll be happy." The billionaire real estate mogul also mentioned the recent increase in protesters, predicting that they will soon be voting for him once they "they learn how crooked Crooked Hillary is." As the crowd continued to cheer the GOP nominee, Trump turned around, walked over to the American flag placed on the stage, and embraced it with a hug.
Election outlook
While Trump has been dealing with a constant cloud of controversy, he was able to withstand 16 other conservatives running for the party's nomination. Though recent polls show a tight general election race, with Trump facing the likely Democratic nominee #Hillary Clinton in November, he's expected to fall behind following the conclusion of the Democratic primary next month. #Democrats vs Republicans