Nicki Minaj Bails Out Brother Accused Of Raping a Child
Posted bond in the amount of $100k a day after allegations went public.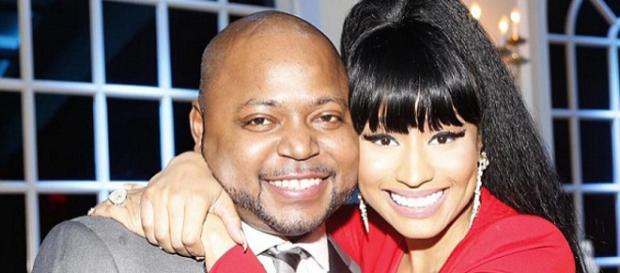 Nicki Minaj wasn't involved in the controversy surrounding her brother Jelani Maraj -- until now. The femcee just posted bond in the amount of $100k to get the man out of jail, just a day after it was made public that he had been arrested on allegations that he raped a 12-year-old girl. Jezebel reports that Jelani Maraj has been charged with first-degree sexual assault of the 12-year-old victim, who has not been identified due to her age and the high-profile nature of this case. Page Six has reported that as of Friday, Maraj is free from jail, and it's all thanks to his famous sister.
Could this ruin Nicki's public image?
Nicki Minaj reportedly posted the bond amount almost immediately after his appearance before a judge.
It's also been reported that the bond she posted was backed by two of the homes she owns -- one of them inhabited by her accused-rapist brother and their mother. Along with this latest #News,  37-year-old Jelani Maraj's mugshot has been released. The mug is making its rounds on social media, while people express both outrage and support for Nicki's decision to bond out her brother.
@EminemSlimo0 @PerezHilton @NICKIMINAJ 👀👀😳😳😳😳😳😳😳 what???? He needs to stay in there till proven otherwise

— aitakatia (@aitakatia) December 5, 2015
@PerezHilton sorry but if my brother was accused of that his ass would stay there. ✌🏻️

— Shaneeeyyy (@shanaaa_marie) December 5, 2015
USA Today reports that Maraj suffered some kind of unknown medical condition which is why his court appearance was carried on behind the walls of a Long Island Hospital.
He was arraigned on the charges of first-degree rape and first-degree sexual assault of a child. At this time it's not known if he intends on pleading guilty or not guilty of the charges.
Nicki Minaj recently attended her 37-year-old brother's wedding in August, posting on social media her love and devotion to the man. That devotion has been proven by her decision to bail him out of jail even though he's been accused of an egregious crime against a child.
How far would you go to prove your love and devotion to a family member? Would you go as far as Nicki Minaj and bail them out of jail, regardless of the crime they are accused of committing. In the eyes of many, it's a shame that Nicki has done this, because crimes against children are truly unforgivable. #Celebrities