Husband and wife married for 69 years die 40 minutes apart
A Chicago couple spent their last moments holding hands in the hospital until the wife died, and her husband died less than an hour later.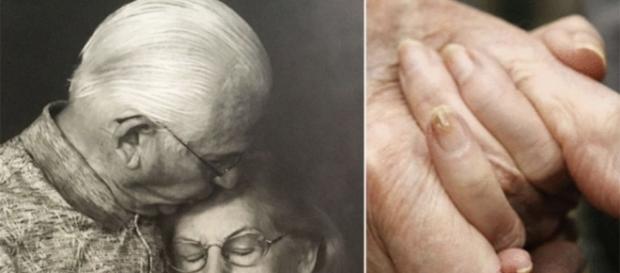 Last Saturday, April 22, an Illinois couple died just 40 minutes apart. The couple got married in 1947 and had been married for 69 years. Issac Vatkin was 91 years old, and his wife Teresa was 89. The hospital staff sensed that their time was ending, so they were put in the same room and their beds were pushed close together. As Isaac was holding Teresa's hand, she died of Alzheimer's disease, according to The Daily Herald.
Within 40 minutes of moving Teresa's bed from the room, Isaac died from an undisclosed ailment. Records show that Teresa Vatkin died at 12:10 a.m and Isaac Vatkin died at 12:50 a.m.
The couple was admitted to Highland Park Hospital last Friday.
Isaac was admitted with influenza. Soon afterward, Teresa was admitted with pneumonia. Both of them died the following day.
Family's reactions
One of the couple's three children believes they simply could not live without each other. Clara Gesklin said their love was just that strong. A son, Leo Vatkin, said they would always do things together. One of the grandchildren, William Vatkin, said they were so much in love that the family couldn't ask for anything more even though they didn't want to see the couple go.
Isaac and Teresa were funeralized together two days after their #death in a joint service at Shalom Memorial Funeral Home. There was one obituary with information about both of them. Rabbi Barry Schecter found that to be so appropriate. He said during the service that the couple did everything together even to the very end.
The #Elderly couple had three children, including a daughter and two sons, eight grandchildren, and six great-grandchildren. Other survivors include Teresa's sister who married Isaac's brother, and Isaac's sister.
Not unusual
This is not the first time a couple has been in the news for dying minutes apart. The setting is a common one where both of them are together at the time of their death like the Vatkins. They die holding hands or touching each other.
If the scene sounds familiar, that's what happened in Nicholas Sparks' popular book and movie,"The Notebook." Both of the main characters were found dead in the same hospital bed at the end of both the book and movie. It is one of Sparks' most popular books because the ending is what happens in real life, as with the Vatkins. #Alzheimer's disease