Lifesaving cancer surgery at the age of 102
A successful operation was carried out on a cancer patient aged aged 102, without any general anesthetic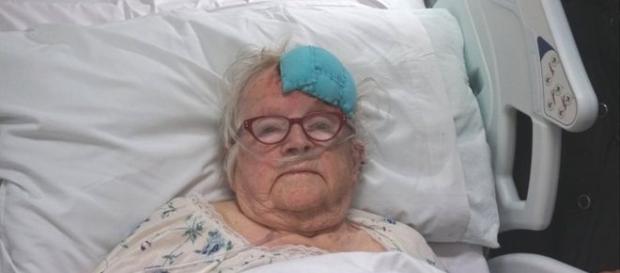 A great-grandmother went through successful surgery when a big lump was removed from her forehead at the age of 102. According to surgeons Adelaide Kershaw is suspected to be the oldest patient who has ever undergone successful surgery at Christie. Christie is rated as among the best and valuable hospitals in the world.
Adelaide Kershaw and her story
Adelaide Kershaw was diagnosed as a cancer patient in September 2016. Surgeons believed that this cancer was a very odd one and it had spread all over her left forehead. Kershaw who lived in Littleborough, Rochdale went through the surgery last month and it was followed by a surprising outcome and success.
According to a specialist, it was a very high-risk and dangerous operation but they managed it with great confidence and managed to cut out the tumor in less than an hour. According to a specialist, due to severe and complex skin cancer, the doctor had to remove the forehead skin while restoring it with thigh skin from the patient.
Adelaide Kershaw soon desired to walk again.
Kershaw at the age of 102 soon desired to get off her bed. She said to one of the nurses "I just want to get walking again." The brave lady who has lived through many years and experienced most of the horrible times in human recent history, has two daughters, four grandchildren, and 6 great-grandchildren reported the BBC. Adelaide Kershaw is now with her daughter for further convalescing and living there happily. Her daughter Christine Garvey said that her mother is well enough to get back to her crocheting.
According to the surgeon Mr. Kosutic, "since the procedure could have proved dangerous for a patient of this age I teamed up with consultant anesthetist." He believed that the surgery was a very rare one but the patient started to recover very quickly. According to him, the patient was really brave and did well enough to go through a tough operation while she was still conscious. "Not every patient would be able to have that sort of extensive surgery while awake." #adelaide kershaw successful surgery #Adelaide Kershaw age 102