Independent Canadian Publisher 'Gerbil Meets Mouse' releases 2017 calendar
Author and entrepreneur Bailey J. Thompson discusses her company, new calendar, and plans for 2017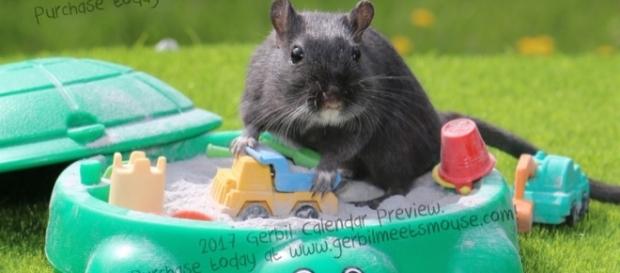 "Gerbil Meets Mouse Publishing" is an indie press located in Canada that produces #Children's books that use a mix of artwork and photographs of cute gerbils to convey memorable illustrations and whimsical stories. In honor of 2017, the company recently released a 2017 calendar that depicts the cute real-life gerbils that are featured in the books.
Company
Gerbil Meets Mouse Publishing was established in 2012 when founder Bailey J. Thompson discovered that her pet gerbil could fit perfectly into a dollhouse her family had built for her when she was a child. "I'd always dreamed of living in that house and suddenly all of those stories flooded in when I realized that Mocha could live out those dreams," Bailey explained.
The name—Gerbil Meets Mouse—was a play on words such as 'gerbil' meeting 'computer mouse' to bring the books fruition." Bailey has been fascinated by gerbils since childhood and adopted two of her own when she was in high school. Those gerbils later became the main characters in her #Book series. To date, Gerbil Meets Mouse Publishing has two series. "Gerbs in the House" focuses on the adventures of father and son gerbils, Mocha and Petri, in their dollhouse. "This one started with the dollhouse and has since evolved," Bailey stated. "I have built many different room-boxes which will be featured in future books and calendars, that Mocha and Petri will live out their storybook lives in." The second series, "Melvin", was started after Bailey adopted a third gerbil named Melvin who loved to wear hats.
"Although gerbils are known to do better in groups, Melvin was too old at the time to make a proper introduction to another gerbil so he remained on his own," Bailey said. "Melvin had a lot of personality; he was very social but seemingly okay being on his own. I would watch him and make up little stories in my head of this gerbil who lived alone with no one to talk to but could live out his dreams in his sleep. Melvin books don't typically include miniatures the way the 'Gerbs in the House' series to, but instead incorporate the use of a green-screen and artists work."
Future
Although there are only two series produced by Gerbil Meets Mouse Publishing, Bailey is open to working with authors who are willing to pen stories for the series. The illustrations are, by far, the most complicated part of the books and so it typically takes over a year to complete each book. "The future books that will incorporate more of the miniature scenes I have been working on have been in progress for over three years," Bailey proclaimed.
"Many of the miniature scenes you've seen on Facebook or Instagram in the last year or those in the calendar are ones I've been working on for the last two and a half years. In the future, I see myself building lots more extremely detailed miniature rooms." The recently released calendar is full of brand new images. Bailey frequently takes photos as a means of showing her work and she posts these images on social media pages such as Instagram and Facebook. "I've been doing calendars for four years," Bailey stated. "Every year, I go through my pictures and pick the best twelve or thirteen images. This year's calendar is probably my favorite yet as for the first time in my life as a creative, this is a piece of art that I would change nothing about - that's a feeling I never thought I'd find." The calendar shows several zany scenes featuring adorable gerbils such as Melvin t in a Tiki bar and Petri in his craft room. Throughout 2017, Bailey is looking forward to releasing more books with high-quality photos and glossy interiors. "For the past couple of years my focus has really been on completing the different settings and room boxes so that I can photograph the gerbils in their house with ease depending on the story's plot," Bailey explained. "Now, I think I will be able to bring my focus back to producing great stories." #Animals