Artist and designer Sean Augustine March unveils holiday window at NYC's Bloomingdale's
Bloomingdale's is currently showcasing a window that was designed by artist Sean Augustine March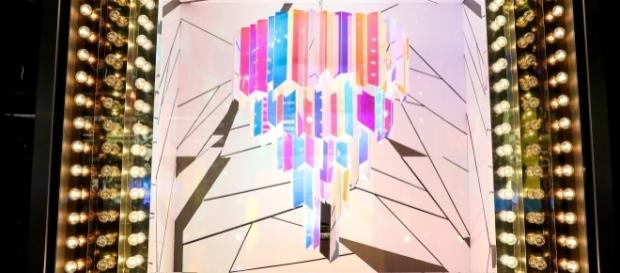 Sean Augustine March is a renowned artist and designer who is famed for his beautiful, abstract, glass lamps designs. Despite having his artistic creations featured in numerous top-rate magazines and venues, Sean considers himself to be primarily a crafter and engineer. In December of 2016, he enjoyed a career highlight when he was granted the opportunity to design and unveil a holiday window at Bloomingdale's headquarters store in Manhattan.
Beginning
Creating has always been a drive at the core of his being which is not entirely surprising considering that he comes from an artistic family. "My aunt, Pamela Blake, has always focused on progressing and not sticking to one success," Sean explained.
"She was my high school #Art teacher, along with my ceramics/jewelry teacher, who's attitude towards art always amazed me. Beyond that, Picasso's cubism and Max Ernst were big influences." Sean's love of abstract art, colors, the Art Deco style, and physics—especially exploiting the endless possibilities of light waves/particles—shines through in his creations which, although functional lamps, are akin to sculptures. Surprisingly, Sean's design career started on the Internet when the staff of ABC Home contacted him after coming across his Instagram account. "Function is never in my mind when I design the lamps," Sean confessed. "They simply look interesting and wouldn't without internal lighting. I do have future plans for functional home decor, but that has got to wait until technology catches up to my dreams." At present, all his work is handmade in his studio where he cuts large sheets of glass and then assembles and wires the lamps.
"Every few months I figure a way to automate parts of my process, so my job becomes more efficient as I go," he stated. "I enjoy making these, and through the work, comes a million new ideas, so I plan on keeping the production aspect with a small team of trained people."
Present
Sean's chance to participate in the Bloomingdale's windows project came about courtesy of curator Natalie Kates. "She is the absolute best and most passionate curator I have ever met," Sean declared. "Through her I met the amazing Leigh Ann Tischler, who is the Director of Bloomingdale's window crew. Without her help and Scott Robinson's, I would not have been able to take part in the display." Although he does not have any favorite pieces, Sean is very fond of the chandelier that he created for the window. "But it only exposes what I can do next," he added. "It's how any creative should feel... Rest on your laurels, and one day you will see yourself years behind your contemporaries. Progression is key. My medium is progression, which involves EVERYTHING!"
Future
Sean is still mastering his craft and hopes to be more financially stable through it one day.
"I started making the lights because that was the aesthetic I had been searching," he declared. "When they became products, I was a bit shocked. I'm not smart I'm creative. So, I tend to make things, and then spend days just staring at them. I'd prefer if every lamp could be a unique piece but I understand the marketing difficulty in that. I think artists should receive more benefits, just as educators, social workers, and NASA should. Explaining why is irrelevant because bias in these times outweigh logic." Sean considers his feature in the Bloomingdale's window to be the most rewarding aspect of his career to date but he also enjoys using his work as a means of raising awareness for worthy charities. "What keeps me going is all the love and my small community of like-minded artists such as Crystal Wagner, Christian Little, and Dan Lam," he stated. "My advice to young artists is to not listen to anyone but yourself. Through doing that, you gain trust in your vision, and learn how important progression is. Take that with a grain of salt, as listening to teachers will help speed up your knowledge and talent." #Interview #Artist