A discussion with artist John Emmet Connors
John Emmet Connors is an artist who has work displayed at Manhattan's Gallery 35.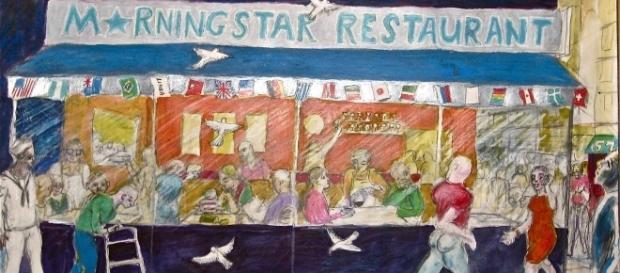 New York-based #Artist John Emmet Connors knew that he wanted to make art his career at a very young age. By the time he was ten, he was addicted to making snow forts (and subsequently having snowball battles) with his friends in the winter and used these memories as inspiration for a drawing that his aunt saw and was very impressed by. "My parents were also very supportive," John stated. "My mother would save the white sheets of cardboard that came with my father's shirts when they came from the dry cleaners since I liked to draw on them." Charles Burchfield was the first artist that John was exposed to, mostly due to the fact that his art was depicted on the Troy phone book and in the home of a neighbor.
"The first real artist I ever met was an old shoemaker named Harold Smith who hung his large oil painted canvases in his shoe shop," John recalled. "The scenes were all of the neighborhood and they were a real inspiration. My early Watercolors were many of the same views." Indeed, most of John's work is inspired by life, but he is occasionally inspired by imagination and memory.
Work
Over the years, John's #Artwork has evolved and he is currently very interested in narrative; that is, using his art to tell a story much in the same style of Eric Fischl and Norman Rockwell. "I love how they could tell a story by the expressions on people's faces," John stated. "I mostly work with water based media and color pencils, I've traveled a lot and carry materials with me so I often work small.
The work I do in the studio is larger. I work on heavy (300lb) paper and my favorite piece tends to be whatever I'm working on. The most rewarding experience with my art was when I had a commission to do a painting of an old house that was to be a gift for someone's grandmother as she had lived there for many years. She wept on receiving it and it gave her several years of joy."
Advice
John uses social media to get his work seen. He is represented by a #Gallery in Troy as well as Gallery 35 in Manhattan. "Artists should learn as many skills as possible since 99% of artist do not pay the rent by selling art," John said. "Don't give up and learn about as many things as possible because every subject will add to your artistic and intellectual growth, but stay away from art criticism. Don't be afraid to experiment, make friends with lots of different types of artists, don't judge others work, try to figure where they're coming from—in other words, stay open and take pride in your creative life as an artist and work but don't overvalue it."