The Metropolitan Museum unpacks fashion collection
The MET Costume Institute showcases 'Masterworks: Unpacking Fashion' exhibition.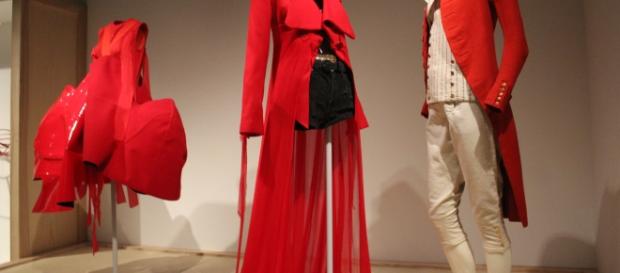 "You will see superb expressions of #fashion that reflect social and political change." – Andrew Bolton, Curator MET Costume Institute.
This philosophy is reflected in the new exhibit at the Metropolitan Museum of Art
The Costume Institute's Fall 2016 exhibition, Masterwork's: Unpacking Fashion is a stunning collection of approximately 60 ensemble masterworks spanning the 18th century to the present. The show is arranged in chronological order and highlights how the museum went about 'unpacking' these significant creations from acquisitions over the past ten years. Each item, which includes men and women's wear, is accompanied by an in-depth explanation of the impact and significance on their respective era's.
I talked with assistant curator, Jessica Regan about some of these cultural shifts depicted in the exhibit. "During the 18th century, there was support for the expansion of global trade through the European East Indian company. Subsequently, styles were influenced by Turkish and Indian garments made from imported textiles and silks."
Regan also notes that 18th-century fashion was more about being a signifier of status. The 19th century ushered in mass production, thus making fashion more accessible and democratic. She said today the lines are much more blurred in how we use fashion to identify someone's status.
Exhibit juxtaposes past with present
You can admire a John Galliano for Maison Margiela dress from 2015 that is paired with a Cristobal Balenciaga gown from 1964, or a Charles James evening dress from the 1950's next to an Azzedine Alaia from 1994.
Another standout is the Alexander McQueen butterfly dress, designed by Sarah Burton. It is composed of a field of hand cut, painted and dyed feathers to create the appearance of a field of monarch butterflies.
Meandering through the rooms, you will see how the political and cultural climate of each era became an expression of the spirit of its time through fashion. Moreover, now that we are undergoing another major political shift, I asked Ms. Regan what impact the new White House administration could have on fashion over the next four years. "It is hard to say, but we can look at other periods of political uncertainty like the late 18th century when there was great variety of fashion compared to previous periods, which reflected certain anxieties about what may be coming."
You can reflect, and enjoy "Masterworks: Unpacking Fashion" through Feb. 5, 2017, at the Metropolitan Museum of Art's Anna Wintour Costume Center in New York City. #FashionMasterworks