Thanksgiving day for the military as turkeys are served but war planes carry out missions
The USS Eisenhower super carrier continues its mission of bombing the ISIS targets in Syria and Iraq but cooks arrange thanksgiving meal with turkey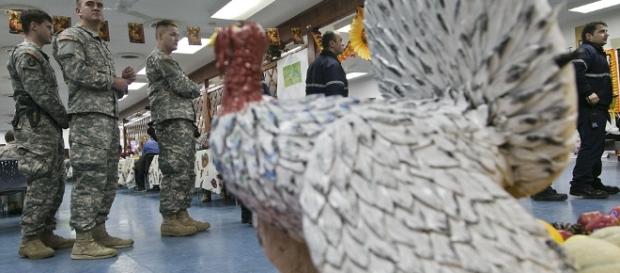 #Thanksgiving day comes once in a year and is also celebrated by the #military. The US armed forces are doing a thankless but very significant job of keeping freedom back at home alive as they patrol the globe. Abroad the super aircraft carrier USS Eisenhower the pilots continue their missions of bombing the ISIS targets in Syria and Iraq. Millions of Americans will be having home cooked meals, but the airmen and ground crew on the battleship will continue their missions but the chefs attached to the military will serve turkey in a mess. Many have partaken of a turkey meal just before the flight. Thanksgiving day
Thanksgiving day abroad the aircraft carrier
Thanksgiving day is a harvesting festival and celebrated all over the world.
In many places, it is known with a different name, but the essence of the festival is the same. It's a time of great celebration as harvesting brings in money, and that can be used for shopping.
The aircraft carrier USS Eisenhower is 100,000 tons super warship of the Nimitz class and is a veritable township. The carrier presently in the Mediterranean sea is the fulcrum of the air bombardment of the strongholds of the Islamic state in both Iraq and Syria. They are playing a significant role in the ongoing battle of Mosul where the Iraqi army is trying to reduce the city held by ISIS fighters. They are also bombing Raqqa and other places where the ISIS are holed up.
Sumptuous meal with turkey
Abroad the carrier the catering staff and cooks have prepared a sumptuous meal with nearly 5000 pounds of turkey and other ingredients like beef, shrimps, potatoes, pies, and cheesecakes.
The idea is to make Warriors feel they are being looked after as they battle the Muslim insurgents. Obviously, with an ongoing battle all the crew cannot celebrate thanksgiving together.
The Ships chaplain Cmdr Ted Williams has explained that the crew will celebrate the thanksgiving day in small groups. He looks after the inter-faith chapel on the ship as well as giving temporal guidance to the airmen and seamen.
The US armed forces in the Far East and Europe have also celebrated thanksgiving day. They celebrate but go about their assigned duty as well.