Startup company Primo Toys releases 'Cubetto' coding toy for young children
'Cubetto' was created to teach young children about the joys of coding in a fun way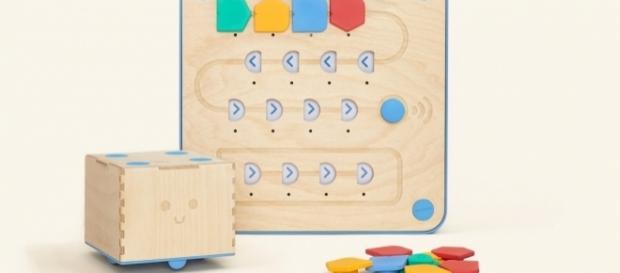 Coding is becoming an increasingly important skill to understand given the fast-paced tech-savvy job market of the present day. To familiarize children with the basic principles of coding, some toy companies have found a way to turn the concepts into gameplay. A startup company known as Primo Toys has entered the coding-game market via their "Cubetto" offering which seamlessly fuses physical toys with stimulating gameplay and educational coding instructions.
Mission
Primo Toys was established in June of 2013 with a mission to create the world's first early learning programming language. In Italian, the word "primo" means "first" and so that name was chosen to reflect the company's intention to create children's first coding experiences.
Primo Toys creates coding toys for children aged three and older. "Our items work without the need for screens or literacy," said co-founder and CEO Filippo Yacob. "Our products are intuitive and don't use any sort of screen for a more social and active experience; instead they are powered by an award-winning and hands-on coding language." Presently, Primo Toys is focused on promoting their debut item—the "Cubetto" playset that holds the distinction of being the most crowdfunded educational technology campaign in the history of Kickstarter. It subsequently went on to win a Red Dot Design Award and a Cannes Lion for product design. The Cubetto playset features a wooden robot and a blanket full of squares with illustrated images. The kit also comes with a booklet of "adventures" for the Cubetto robot to go on and children must correctly code the toy—using hands-on blocks in different shapes—to ensure that it will move onto the proper blanket square.
In short, by arranging the blocks into meaningful sequences, the child is designing and writing basic coding programs via sequences. "We started the company with the challenge to introduce coding in early years learning," Filippo Yacob explained. "Field research helped us understand how children learn and play in their natural environments. It also told us what educators wanted and what similar products were already available. Relentlessly prototyping and testing eventually resulted in Cubetto."
Ambitions
Cubetto is somewhat akin to Dash & Dot and Mattel's Bloxels but it is intended for a much younger age group than those toys and is also far more focused on the essential elements of coding. Cubetto is different to Dash & Dot because its uniquely designed for a preschool audience and it works exclusively without screens, following Montessori preschool principles, both of which Dash & Dot does not. Despite being relatively new to the market, Cubetto is already a standard tool for teaching early coding lessons in over ninety countries.
"We work with the French ministry of education, the Italian government, the state of Maryland, and countless public and private educational institutions," Filippo proudly noted. "It's been a huge success and there's a real sense of purpose that comes from such focus which team members as well as customers respond to amazingly." Presently, Primo Toys is dedicated to getting a Cubetto playset into 2.4 million early learning centers all across the globe and they have also branched into the consumer market so children can play with the toy from the comfort of their own homes. "It's an ambitious goal, but we have a plan to have at least one billion children in the world receiving exposure to computational thinking in early years through Cubetto by 2020," Filippo declared. "We're also working on new blocks, new maps, and new stories that allow the world of Cubetto to come alive in the next twelve months. We're excited about the future."