Jingle Bell, Jingle BAM explodes onto the scene at Disney's Hollywood Studios
New Walt Disney World Christmas show is packed with fireworks, projections and special effects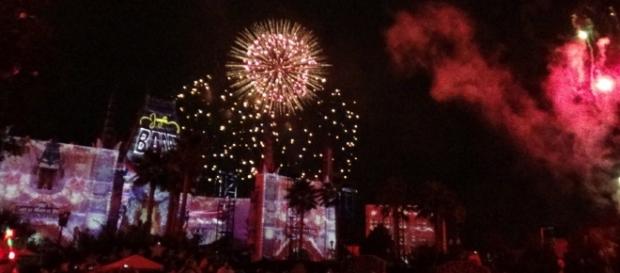 The holidays are exploding quite literally at Disney's Hollywood Studios, where the Jingle Bell, Jingle BAM show has taken over the skies at #Walt Disney World for the #Christmas season. The show, which combines fireworks and projection technology to tell a story of Santa Claus, with Prep & Landing elves Wayne and Lanny, runs every night at the theme park through December 31.
Christmas show has favorite Disney characters
If you'd like a preview of this new Walt Disney World show before you see it for yourself, check out the video below. As you'll see, it also incorporates the creepy Halloween/Christmas classic 'The Nightmare Before Christmas.' Be sure to choose a spot where you can see the sky, as well as the Chinese Theater and the buildings surrounding it, to view the full panorama of pyrotechnics and projections.
In addition to Jack Skellington, you'll also see friends from other Disney movies like 'Cinderella' and 'Bambi.'
Book a special Christmas party viewing
The Jingle Bell, Jingle BAM show is included with your Disney's Hollywood Studios admission ticket. Check the park map for show times during your visit, as they rotate. If you don't want to worry about staking out a spot for the show, book the special dessert party to get a dedicated VIP viewing area, as well as a variety of sweet, tasty treats to nosh on while you're waiting. The party runs through December 31 and is a great way to get out of the Christmas crowds and enjoy a prime viewing spot and a little relaxation, along with a visit from a Disney character friend. Mom and Dad can even indulge in wine, beer, and specialty adult beverages.
The cost runs $69 to $79 for adults and $39 to $45 for children, depending on the date.
Plan a full day at Disney's Hollywood Studios
Even though Jingle Bell, Jingle BAM runs in the evening, you'll want to arrive at Disney's Hollywood Studios early and spend a full day at the park. In addition to old favorite attractions like the Tower of Terror and Rock 'n' Roller Coaster, this Disney theme park is home to Chewbacca, Kylo Ren, and a host of other Star Wars characters and fun. Walt Disney World gets very busy during the Christmas season, so arrive at park opening and use the FastPass+ system to make the most of your day, and book the dessert party for the easiest way to see the fireworks at night. #Jingle Bell Jingle BAM