Discover the rich history of Russia's Volga River
Together with centuries of European music and literary works, the legendary Volga is celebrated in the song of the Volga boatmen.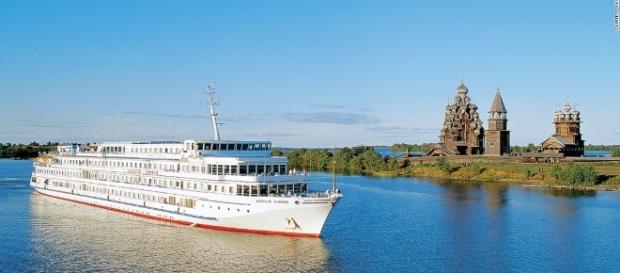 #Europe's longest river, the Volga remains a big influence in Russian history. It is a region where the cradle of Indo-European culture began more than 7,000 years ago. Throughout medieval times, the river served as a major waterway establishing trade as well as a new settlement. It was the starting point where Peter the Great sailed the Volga from Moscow to St. Petersburg on a mission in search to bring Russia out of the Dark Ages.
Today, travelers can experience a grand tour of the Volga which includes many of the world's most significant art and architecture. In addition to, travelers will have the opportunity to explore a number of hidden villages welcoming visitors with their "Old World" charm.
Generations continue to celebrate the river's importance with its contribution to European music and literary works. The Volga is commemorated in song by the Volga boatmen with this widely recognized verse - "Mighty stream so deep and wide, Volga, Volga, our pride".
The Volga River
The simplest way to experience the rich history of the Volga as well as the magnificent cities that run along its banks is best by Russia's river cruise ships. As you journey on the Volga, you will begin to experience an understanding regarding the people, culture, and tradition which have made this river a significant component of Russian life.
The building of the Moscow-Volga Canal was finished in 1937, connecting Moscow by way of an extraordinary system of waterways.These waterways extend from St. Petersburg all the way to Astrakhan.
Today, travelers can undertake the same exact journey that Peter the Great first envisioned. Journeying along the Volga from Moscow to St. Petersburg on a river cruise ship makes it possible for travelers to observe a few of Russia's most incredible medieval cities.
The Volga Delta
The Volga Delta is Europe's largest inland delta that forms where the Volga River empties into the Caspian Sea. Travelers can observe broad pastures which are intertwined by a network of waterways, and woodlands along with sweeping fields of willows, alders, and poplars.
The Volga Delta is a favorite destination for both nature and wildlife enthusiasts. The marshlands have grown to become a sanctuary for beavers, otters, and plenty of wildlife. The Volga Delta provides fishermen with some excellent fishing which include the Asp, Tench, and the Zander.
Nature and wildlife in the Astrakhan region are well protected in the Astrakhansky Zapovednik, one of Russia's oldest nature reservation. More than 250 avian species make their home in Astrakhansky Zapovednik, gaining a reputation as a genuine haven for birds.
As you make your way through the delta region, willows associated with the region can be seen arched over the sparkling waters, whereas wild boars, foxes, and rodents can be observed roaming through the hollow slender reeds. Among the numerous birds that inhabit the preserve are the Great Blackheaded Gull, White-tailed Eagle, Caspian Tern, Dalmatian Pelican, Penduline Tit, Night Heron. Many other species can be observed while touring the Volga Delta. #vacation #Travel