Chicago Toy & Game Fair 'ChiTAG' to be held from November 19 & 20 at Navy Pier
ChiTAG is a huge toy event that is held annually and includes a lot of fun events and attractions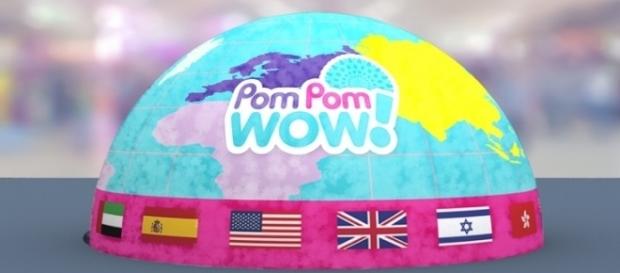 The Chicago Toy & Game Fair known as "ChiTAG" is set to be held on November 19 and 20 at Chicago's Navy Pier. The event will feature the top trends from the toys and games industry as well as the hottest new items for Christmas. Open to the public, ChiTAG will also feature some fun and interesting attractions including a walk-through pom-pom dome and a fashion show.
Dome
The pom-pom dome is a walk-through activity center created using over 150,000 pom-poms from Maya Toys' popular "Pom Pom Wow" series. The company came up with the idea for this project after hosting a "Pom Pom Wow" event where they decorated a car with pom-poms at Toy Fair 2016 in New York.
After replicating the event in London and Los Angeles, they decided to take the concept to a higher level for the ChiTAG Fair. "In late summer we began brainstorming with Maya Toys and explored several ideas to create the globe concept that was inspired by the international success of the Pom Pom Wow brand," explained Jim McCafferty of JMP Creative, inventor of Pom Pom Wow.
With a theme of "Uniting Kids Across the World" the dome is representative of a globe of the world and its base will feature flags of various nations. When fully erected, the dome stands ten feet in height and twenty-one feet in width. Obviously, the assembly process was quite rigorous. "Including planning, design comps, dome construction, logistics and dome decoration, the process spanned over two months," explained Jim McCafferty.
"We even made a documentary about it." The process of applying the pom-poms was done prior to the event and the completed globe is set to be shipped to the location for on-site assembly. Once constructed, visitors will be encouraged to walk into the dome where there will be arts and crafts opportunities for kids and big TV screens showcasing crafting content.
Fashion
The PlayCHIC Fashion Show—which was inspired by the Salon du Chocolat Show—will also be featured at ChiTAG. Since its launch in 2012, the event celebrates the public's love of fashion with a fun, whimsical and inventive parade of styles—most of which are inspired by DIY trends and/or toys and games. Essentially, the PlayCHIC Fashion Show celebrates the inventors and designers behind popular toys and games via working their creations into fashion statements. "This year, Pom Pom Wow and Orbeez are the inspiration for two whimsically gorgeous gowns," said Mary Couzin, the CEO and Founder of the Chicago Toy & Game Group. "Maya Toys spent nearly six weeks of work for the fashions' design, construction and application of toy-inspired elements.
Over 11,000 pom-poms were applied to the Pom Pom Wow dress, butterfly wings and footwear. The dress alone required more than 7,000 pom-poms!"
Activities
Other #Events and activities set to take place at ChiTAG include the Toy & Game Innovation Awards known as the "TAGIEs", the Young Inventor Challenge, Young TECH Challenge, the Play in Education conference, the DiscoverGames Inventor Co-op and much more. "It's always rewarding to work with creative people," Mary Couzin declared. "I am an artist myself and I understand how much thought and physical work is put into creating. We hope that ChiTAG and the events within it inspire all our attendees." #Toys & Games #Conventions