Build & Imagine construction toy line for girls nominated for a 2017 Toy of the Year Award
CEO of Build & Imagine, Laurie Peterson, discusses women in the workforce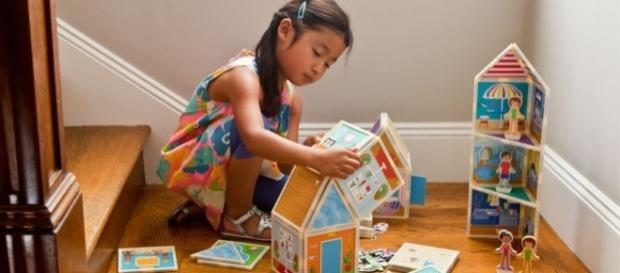 In late November of 2016, the Toy Industry Association released their list of Toy of the Year Award (TOTY) nominees for 2017. Build & Imagine, a line of construction toys aimed at girls, was among the organizations named. Founder Laurie Peterson was very honored and humbled by the inclusion, especially given that her company was started with the intention of combating gender bias within the Toys and Games Industry.
Origin
Laurie Peterson is both a toy designer and the CEO of the multiple award-winning toy company, "Build & Imagine" that encourages girls to gain interest in STEM subjects. Following a successful Kickstarter campaign in 2013, the start-up diligently produced a series of magnetic construction kits with strong female characters.
Somewhat akin to Goldie Blox, KNEX and LEGO, Build & Imagine is currently a finalist for two TOTY awards which are essentially the "Oscars" of the Toys & Games Industry. Despite Laurie's success and rise to prominence, few people know the story behind her journey from a consumer to a CEO. It started when she Googled LEGO and discovered that twenty-two white men oversaw all product designs and creation. The knowledge was jarring to Laurie who believes that women are the best candidates for designing playsets for girls. Hence, she decided to start her own company and feature adventurous leading female characters. "Toys, especially construction toys, have the power to shape our children's' skills and views of the world," Laurie stated. "It's important to make that an inclusive viewpoint where children have equal opportunity to pursue skills and interests."
Backstory
Laurie previously worked for a video game company and saw firsthand how even well intentioned men were scared to approach content for girls.
"They didn't want to 'do it wrong' so the result was we did nothing at all," she explained. "When I was advocating for games that would appeal to girls what the men heard was 'shopping' and 'pink' which they were uncomfortable with. I had to explain that I was thinking about games for girls based on the kinds of play mechanics girls tend to love – collecting, storytelling, social interaction, puzzles, taming chaos, designing, creativity, narrative, etc. It takes women at the table to bring this kind of perspective." When designing for Build & Imagine, Laurie received abundant kudos for departing from expected color schemes and themes and rendering her characters as space explorers, video game designers, and detectives. The "Marine Rescue Center" is especially popular. The most recent offering—"Draw & Build Dollhouse"—encourages children to color in the pieces themselves leading to maximum creativity.
Future
Starting Build & Imagine was not easy. Despite having industry experience, Laurie is still struggling to keep the company running successfully after three years.
"You really have to have endurance and take each phase of the startup process one step at a time," she declared. "You have to prove your hypothesis that there is a market opportunity and then test your toys to see if they are satisfactory." Thus far, Laurie's wares have been more than merely satisfactory. In November of 2016, she was named the "Rising Star Toy #Inventor of the Year" and, within two years, her company has been presented with over twenty-five awards. These accolades have provided Laurie with the chance to give speeches in front of the movers and shakers of the major toy companies. "I used it as an opportunity to make the case that we must support toy #Startups, particularly women entrepreneurs, because we're seeing a lot of the innovation and fresh perspectives on gender and toys being driven by independent companies who have the freedom to think differently," Laurie proclaimed. "The last three 'Rising Star Toy Inventors' were female start-up founders. I believe we can drive representation of women in high level jobs in the industry, as well as a more diverse toy offering for girls, by investing in startups." #Toys & Games