Black Friday deals leaked: HDTVs hot, Thanksgiving sales start early, same prices online
Walmart, Target, Amazon, Toys R Us, more 2016 after-Thanksgiving Black Friday sales begin on Thanksgiving or earlier, holiday weekend deals online.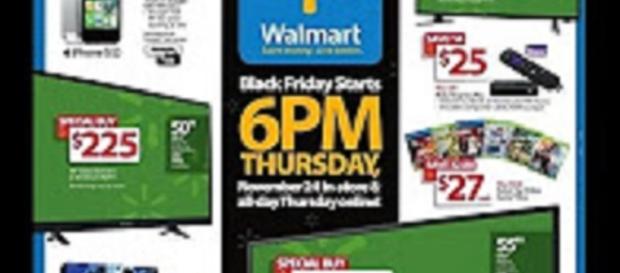 Stores across the U.S. have leaked their Black Friday deals in anticipation of Thanksgiving holiday weekend sales. The good news is no camping out because big box stores like Sears, Walmart, Target, Amazon, Best Buy, Kohl's, Macy's and Meijer are open on #Thanksgiving Day. Toys R Us BF ads are good on Thanksgiving too. Many prices are available online so you can cybershop. Prominently featured are super cheap prices on HDTV's, FitBit's, video games, toys and laptops.
Black Friday ads start Thanksgiving Day and earlier
Online giant Amazon began the 2016 holiday sales on November 16. But the "Turkey 5" Thanksgiving deals heat up on Thanksgiving Day and count down through the weekend to Cyber Monday following the holiday.
Meijer has specific sales for each day of the weekend. Some run all week, other sales last for three days, Thursday-Saturday, while others are Thanksgiving Day and Black Friday specific. Toys R Us, Walmart, Macy's, Target, Best Buy and Sears stores will be open at 5-6 am on Thursday. ToysRUs.com will start BF deals on Wednesday at 9 pm. Walmart.com and Sears.com will have BF prices available online.
Black Friday sales on Christmas presents and holiday gifts
Walmart's big dealie-o is an HDTV starting at $125. Meijer features 50% off Barbie dolls and other toys, 20% off LEGO toys and 30% off many others. Kohl's is giving $15 Kohl's cash on each BF purchase. Toys R Us has 40-50% off toys and $10 off $75. Best Buy boasts cheap FitBit Charge 2, Macbook Air, DSLR cameras and video games under $30.
Target has 50% doorbusters, 30% off clothing, baby furniture at half price and more. Menards has super savings across the store with the best deals on Friday morning.
Or, skip Black Friday and wait for Cyber Monday
Cyber Monday is the feast day for couch potato shoppers. Avoid stores, driving, hassles, getting up at the crack of ugly: shop online and snag many of the same (or better) buys. Many folks have found they could actually save more money #Shopping online sales. Get free shipping on your HDTV for the ultimate in laziness and savings. Plus you can shop in your jammies and let the Turkey Day feast digest in peace. And hey, a little retail therapy might heal that post Election 2016 burnout, right? #blackfriday