Quattro Gastronomia Italiana offers a price-fixed menu for the month of October
Men around town can take advantage and shake up their social calendar, eat slowly, enjoy the scenery.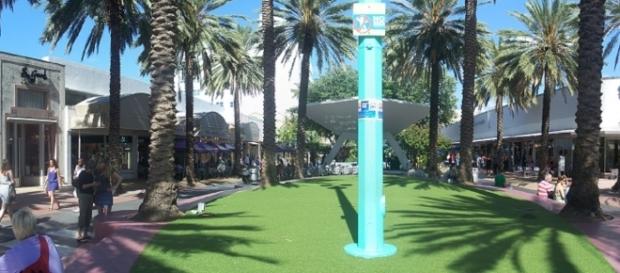 Quattro Restaurant is opening its doors and embracing the working professionals of Miami by offering price fixed menus for the month of October. For Lunch, they offer a three course menu for $25 per person and for dinner, $39 per person. Price fixed menus are a key in the door for most people to take a vacation from dining at chain restaurants, which corner the market in restaurant industry sales (think Chipotle, with 20% annual growth each year in sales). A man and his friends could go out after work to Quattro instead of the usual franchise bar & grill and enjoy a different setting in a beautiful location or he could take his significant other out for a dinner date and look economical and thoughtful with his choice. 
Miami and the Beaches offer natives a chance to travel
The Quattro is on the world famous Lincoln Road where it is a boulevard/bazzar/main street and everything can be seen and experienced.
The sun setting in the west combined with the storefront lights turning on is a beautiful sight. Quattro inside is beautiful and the Italian cuisine mimics eating along the coast in Italy (minus the international flight). All these qualities are beneficial for a man in Miami who wants to enjoy his City but also experience new things every once in awhile. At the dinner hour, the menu would begin with an antipasti choice between a quinoa salad mixed with lentils, cherry tomatoes, kale and goat cheese or an eggplant roll with ricotta and mozzarella, topped with tomato sauce. A third choice is a beef carpaccio with fresh mushroom and parmigiano reggiano cheese. The main course is between pappardelle pasta with diced tuna, tomato, zucchini and fresh mint, pounded New York Strip steak topped with cherry tomatoes and fresh oregano, or grilled snapper with kale and cannellini beans salad.
The dessert would be selections of Quattro's ice creams. 
Practice eating slowly and enjoying your company
An article on WebMd.com by Kathleen Zelman, MPH, RD, LD, states that eating slowly will make the person fuller, faster--"It takes approximately 20 minutes from the time you start eating for your brain to send out signals of fullness." Take the time out when eating at Quattro to practice this at least on a Friday or before a vacation to make it a common practice. For the lunch menu, Quattro starts you off with an Antipasti, choice of Buffalo mozzarella caprese salad, colored with multicolored tomatoes, basil and oregano, or Chicken salad with avocado, tomatoes, onions and goat cheese. The main course would be penne pasta with fresh tomato sauce and eggplant topped with salted ricotta or a chicken drumstick with mushroom sauce. Finally for dessert, the selection of Quattro's ice creams would complete the menu. Many people complain about the pace of daily life but it takes only one decision to slow things down and see things from a different point of view.  #LincolnRoad #MiamiBeach #Italianfood