Nicole Miller goes Panamanian chic at New York Fashion Week
The Runways at New York Fashion Week Spring/Summer 2017: Nicole Miller and Tadashi Shoji.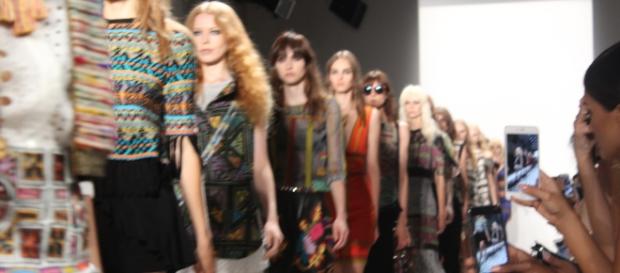 Nicole Miller debuts at Fashion Week 
Nicole Miller debuted her colorful Panamanian themed Spring/Summer 2017 collection during New York Fashion Week at Skylight Clarkson Square, in New York City. Miller told us she was inspired by Panama and the colorful mola pattern worn by Kuna women from the region. She fused these geometric patterns with a bohemian, vintage twist, and added fluorescents into the mix. 
We talked with Nicole backstage about her spring line. "The country was my muse, and I combined the culture of Panama and contrasted it with Panama meets New York. I had that good girl, bad girl contrast throughout as well.
My clothes are for the modern woman, who has a bit of an edge to her, and does not want to be a fashion victim." 
The edgy models strutted the catwalk in a plethora of indigenous, yet chic looks. Miller showcased lots of styles and fabrics, from tweed bomber jackets to denim, her personal favorite, to leather, lace and fringe dresses. She infused her looks with lots of embroidery and beading and used a bright color palette. Miller said it was fun creating such a colorful line. 
We know her fans will love stepping out this spring in her always cool, crisp, yet vintage creations.  But, you will have to wait the standard six months. Miller says she has no intention of embracing the 'runway to retail' philosophy. Some front row fans who will be waiting in the wings include Christina Milian, Morgan Stewart, Jackie Cruz, Alysia Reiner from "Orange Is the New Black," and Jill Hennessy.
Tadashi Shoji enthralls
Over at Tadashi Shoji, inspiration was found in the surreal. The show kicked off at Moynihan Station to a standing room only crowd ready to be enthralled. Models illuminated the runway in weightless, ultra-sheer looks. Red, green and white dominated the color palette. There was plenty of baroque lace, stunning feathers, and intricate embroidery interspersed throughout the collection of sheaths, parachute skirts and flowing gowns. 
We caught up with Tadashi Shoji backstage and asked about his inspiration. "This line is about rising from the earth and being transformed. I hope my designs transcend and inspire all women." Tadashi Shoji will be offering a limited number of looks from 'runway to retail' from his dreamy Spring 2017 collection. #nicolemiller #NYFW