Footaction FreeFlow Series unveils another episode
Youngsters Christian and Justin Combs sit with Andre Harrell and talk style, the future, and Pops.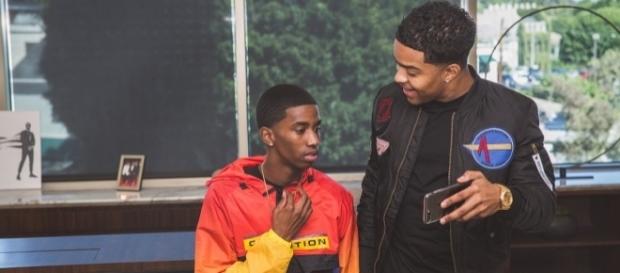 #footaction once again shows in their Footaction Free Flow docuseries, that they care about the plight of a man's lifestyle, highlighting a conversation between older and younger music artists to talk about clothing, work, play, and family. In this episode, Andre Harrell, well known talent evaluator, business man and general manager of many record companies spoke with the sons of Sean "Puff Daddy" Combs, Justin and Christian. The two young men were decked out in Footaction gear and met Harrell at his office. Andre spoke to them about the style displayed by their father and how it stood out from the rest of the artists. Harrell addressed the boys and told them, "Your pops knew how to dress down with the right sneaker gear or how to dress up with the right hard shoe gear.
And that's what separated him...to know cool, effortlessness." 
Style isn't just about the clothes
The difference Harrell pointed out is that every young man has ecclectic tastes nowadays and isn't trying to emulate just one artist or look. Christian stated that his style was a mix of New York, L.A. and Atlanta. He continued to state the rest of his style
In his approach to life, talking about how important it was that he just became registered to vote and espoused his feelings on the subject. Justin also showed his style influence and approach to life by agreeing with his brother about the importance of voting (quoted an idea his Dad influenced him on) and showing his knowledge of black history by citing the examples of the plights of Malcolm X and Martin Luther King.
The two brothers showed their youth in the piece, staying quiet mostly and letting the older, wiser Harrell do most of the talking, but by the end of the series, in getting ready to perform, they were excited and ready to show what they could do. The Footaction gear they were wearing was "late 90's themed"-- Christian in a bright workout hoodie and gray jeans with Air Jordans and Justin with a black bomber jacket, discolored gray jeans and Nike Air high tops as they got worked up to take the stage.  #Diddy #BadBoyFamilyReunion