Enter if you dare - for a chance to stay at Dracula's Castle this Halloween
Airbnb opens the castle to two lucky winners for the first time since 1948.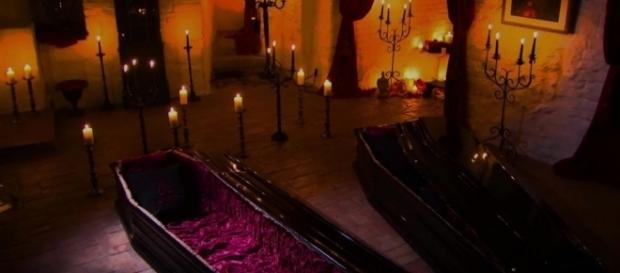 When using Airbnb, many people fear that the house they rent will make them feel like the subjects of their very own horror movie. But this #Halloween, that's exactly what two lucky (and brave) people, are hoping for. That's right! While many Halloween lovers are picking out costumes or looking for not-so-scary adventures this October 31, thousands of thrill seekers are dying for the chance to stay at the very site of Bram Stoker's Dracula story, the Bran Castle in Romania.
The Way It Works
Airbnb is hosting a contest that will give two people the chance to spend the night in Dracula's castle for the first time since 1948. The way to win? Use your "vampire wit" to imagine what you would say to Dracula if you came face-to-face with the horror classic this Halloween.
What Do You Win?
The winners will be flown to Romania, the home of Bran Castle, and given the full Dracula experience.
At the gates of the castle, they will be met by Dacre Stoker, the great nephew of Bram Stoker, who will welcome them with the famous words of the novel's monster; "Welcome to my house! Enter freely. Go safely, and leave something of the happiness you bring!" From there, Stoker will escort the winners through the castle, treat them to the very dinner served in the novel, and tuck them in to their velvet lined coffins for bed. (Real beds are on hand in case Dracula is a coffin-hog.)
Only the brave dare apply, because garlic, silver and mirror selfies are strictly forbidden in the castle.
The Castle's Grim History
Bran Castle is historically known as the home of Vlad the Impaler, a Romanian ruler famous for impaling his foes, and even a few friends. The castle was taken over by the communist regime in the 1940s and hasn't been inhabited since.
It has been open to the general public since 2006, and averages 630,000 visitors per year, The castle is host to many private parties, weddings, and corporate events, but this will be the first time anyone has spent the night since the castle was taken in WWII.
Contestants have until October 26 to enter the contest, and airfare to Romania is included. 
No word on whether or not Dracula will make an appearance.