Child abuse continues daily in their own homes
Therapy dogs being used to help children of abuse feel more secure and safe in court.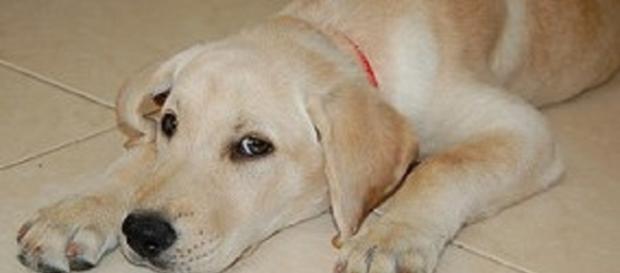 Children have undergone abuse and cruelty within the home for years without help and acknowledgment. In past years, #Child Abuse was kept secretive due to fear and anxiety. A new program now developed is designed to help child victims of abuse through therapy service dogs.   
Devin's story
Devin is a young lady, 11 years of age, living in fear on a daily basis. She resided with her mom and mom's boyfriend. Devin endured continual sexual abuse at the hands of the boyfriend on a daily basis, never knowing when he would come into her room and touch her inappropriately in the dark. She was afraid to tell her mom or other family members for fear they too would be in danger if she did so.
When in court, Devin was able to speak up in her defense. Devin would not have had the courage to stand up for herself and face her abuser in court if it weren't for a service therapy dog named Argos. Devin was able to walk out of court with her head held high, knowing her abuser, a lever one sex offender would spend years in jail and on monitored probation, unable to hurt her or others again.
Therapy Service Dogs for child victims of abuse
Argos is an English Labrador retriever with a calm and mellow demeanor. He holds many honors including agility, retrieving, obedience and hunting. Court authorities have concerns that a dog like Argos could have similar effects on another young girl, age 10, who was raped at age 8. The perpetrator's attorneys object to the presence of a therapy dog, despite his calm, obedient nature.
Those close to the victim feel the animal brings comfort to them during such a trying time in court.    
The Lee Gross Anthone Child Advocacy Center provides counseling for children of abuse and introduced therapy dogs like Argos. The use of a therapy dog works to comfort the child while the child comforts the animal. The Lee Gross Anthone Child Advocacy Center has been using therapy dogs for four years now, with Argos as their first. Other animals include a Japanese Chin and four other Labrador retrievers, helping children from ages 4 to 18. Numerous children of abuse have been paired up with therapy dogs, provided they like them and are not allergic. A child's face lights up when seeing the dogs and they feel more at ease in the courtroom during such a stressful time speaking out in their defense. The dogs ensure comfort and security for the youngster while helping the victim through the healing process of convicting their abuser.        #therapy service dogs #Animal Advocacy