BLT Prime hosts a victory dinner for 2016 Iron Fork Champions
Restaurant with special price-fixe menu provides working men an inviting social map landmark to frequent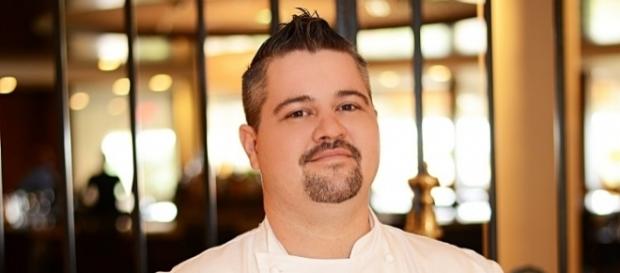 On Friday, October 14th at BLT Prime Restaurant, the winners of the Miami New Times Iron Fork cook-off, home chef de cuisine Dustin Ward and Meat Market Miami's chef Sean Brasel will collaborate on a four course price-fixe menu in celebration of their win. The four course menu features a dish from each chef based on ingredients they used during the cook off as well as the winning dish--a Short Rib Duo (made with Clear Creek farms Wagyu short rib) with Red wine short rib marmelade and brown butter braised spinach.
The BLT Prime restaurant is centrally located in Miami off the Palmetto expressway exit on 36th street, crossing the busy thoroughfare of Galloway Road (SW 87th Avenue).
Located in the growing City of Doral, BLT Prime lies in the Trump National Doral Miami and is an oasis away from the concrete and commerical office buildings. The resort seems to block out the hustle and bustle, transporting members of the public into suspension for a time.
Restaurants aren't only for the well to-do
Price-fixe menus at luxury restaurants allow working professionals a chance to dine on delicious, high quality food which usually they will eschew in favor of more economic menu locations (chain restaurants). Clear Creek farms is located in Milton, Florida, just outside of Ocala, so not only will customers be experiencing Miami's growing prowess in the restaurant industry, they will be contributing to the local economy as it is beneficial to eat at restaurants that use local products.
Walking into BLT Prime, the valet takes your car keys and you begin to feel that you are eating a private dinner, when you are greeted with a welcome cocktail as part of your reservation to eat the price-fixe meal. The dinner, only priced at $75 per person, comes with a wine pairing for an additional $25. BLT Prime should also be used by working professionals for other occasions, because it is also close enough from the East to West commute in the late afternoon to catch the 5@5 Happy Hour. Bud Light Draft beers, Lemon Drop Martini's, Red and White wines plus a Braised Short Rib Grilled Cheddar sandwich is only $5 (from 5-6:30pm is the Happy Hour). It is these places in Miami that can make up a map in a man's mind that can "hit the spot" at the end of a stressful day to ease him into his social agenda.  #MiamiSpice #MiamiNewTimes #Donald Trump