Artist Catherine Wagner Minnery and photographer Pasquale Leuzzi exhibit in New York
Catherine and Pasquale will exhibit their nature-inspired work at the Piermont Flywheel Gallery this October.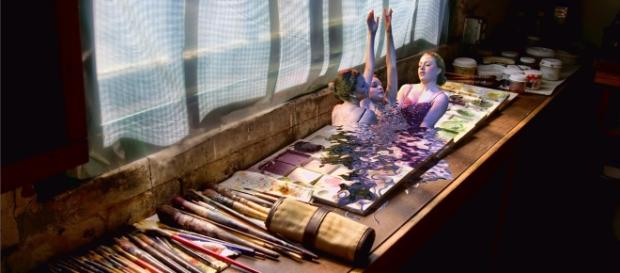 Artist Catherine Wagner Minnery and photographer Pasquale Leuzzi are set to have a joint-exhibition of their work, titled "Two Visions," at the Piermont Flywheel Gallery from October 20 to November 6, 2016. The exhibit will show how both creators interpret and subsequently portray similar visions differently. Both artists are very inspired by nature and their combined show will put an emphasis on landscape as a theme. While Pasquale uses a camera to capture the beauty of nature, Catherine works primarily with oil paints and watercolors to capture the beauty of life—especially around the Hudson Valley area. Prior to the show, Catherine and Pasquale hiked together in the Catskills and Adirondacks which directly inspired some of the work in the show.
Additionally, Catherine and Pasquale have interest in Africa. Catherine traveled to Rwanda in 2002 with the Catholic Relief Services. Pasquale has visited Tanzania three times in the past three years through his work with a charitable organization called Excel Education Fund. These journeys have greatly impacted their lives and work. 
Inspirations 
Catherine and Pasquale are inspired by the beauty they see everywhere, everyday. "Inspiration could be found in the way the late afternoon light is hitting the trees alongside the road as I drive home from the studio or a delicate ripple in a stream in the woods on a summer morning or the starkness and strong abstract shapes highlighted by an early snowfall," Catherine explained. A detailed draftswoman, she usually makes drawings and takes photos of her subjects before she puts paint to canvas in her studio.
Pasquale Leuzzi uses his medium to capture the beauty of nature but also finds beauty in rusted machinery and peeling paint he explained. " I love and look for shadows which add interest." Pasquale is also a humanitarian and started an eye-exam program for impoverished children in communities in Tanzania. "The children and the people of Tanzania have changed my life drastically " he said. " My portraits of the children make me wish I was back there doing more good. The show and title "Two Visions" was Catherine's idea and concept, sharing a solo show at the gallery with two #Artists working in two different mediums."
Aspirations 
Both artists aim to keep creating visions long into the future. Catherine has an exhibition of work titled "Oil and Water" running through December 14 at Siena College in Loundonville, New York. She and Pasquale will also both be showing work in the Piermont Flywheel Gallery Holiday group show which runs from November 26, 2016, to January 3, 2017. Pasquale has recently secured a solo show focusing on photographs of Africa. It will run from January 6 to January 28, 2017. #Galleries #Exhibitions